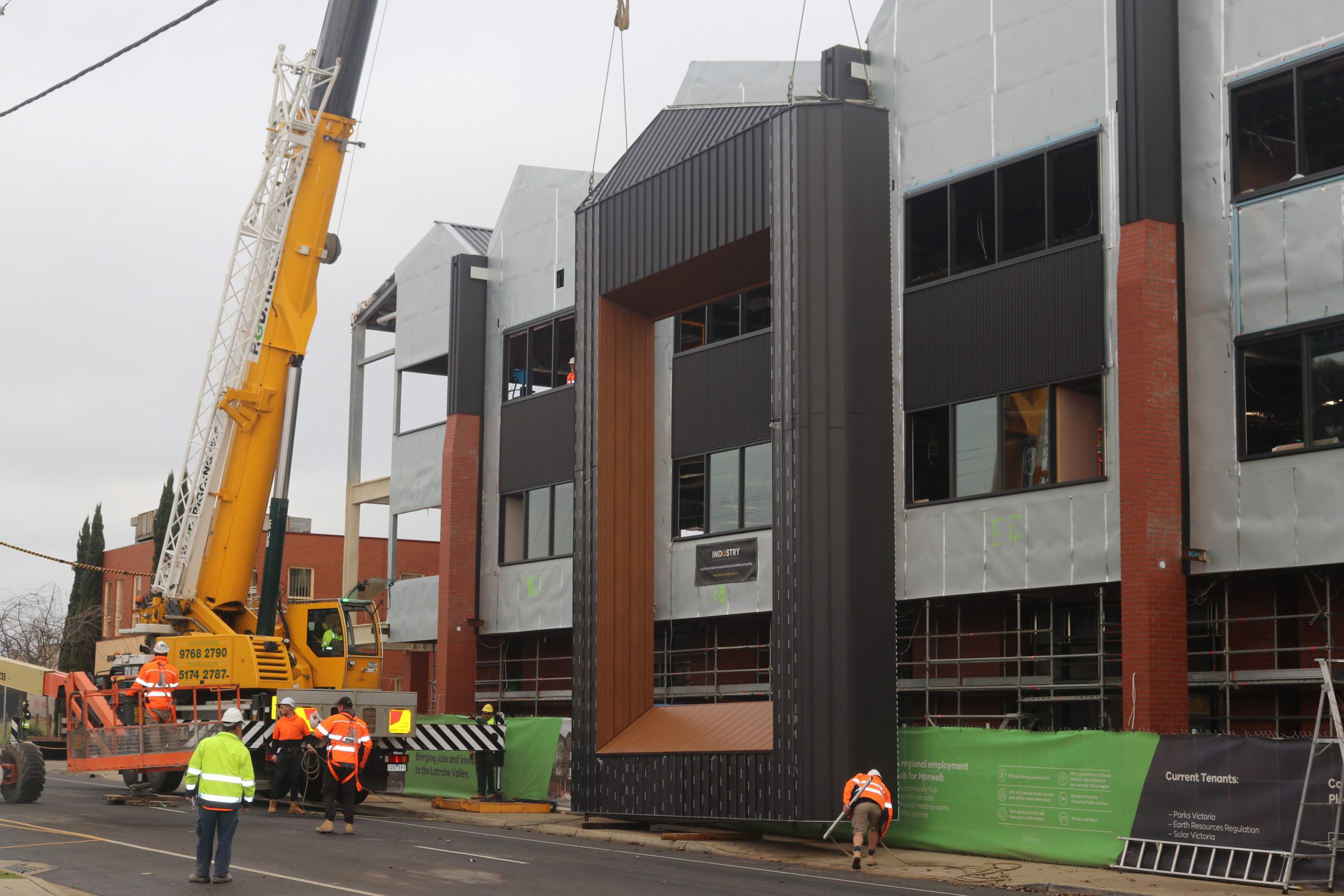 Michelle Slater
The Latrobe Valley GovHub in Morwell received a major facelift last week when the world's largest light gauge facade modules were hoisted onto the Church Street building front.

Castlerock Property assistant development manager Harriett Sestak said the installation signalled a milestone moment in construction of the $30 million building.
"This was a year's worth of planning and design to reach today's milestone, it's a fine engineering feat," Ms Sestak said.
"This facade brings the building to life, there had been copious amounts of hours organising it. This is an incredible world-class building here in Morwell."
Ms Sestak said construction was a month ahead of schedule with completion expected in September and occupancy to start in January 2021.
The 18 prefabricated steel facade modules were manufactured in Dandenong and assembled on-site before they were hitched onto the building with a crane.
Each module weighs four tonnes measuring 14.5 metres high and eight metres wide, containing 2.2. kilometres of steel, making them the largest light gauge steel facade modules in the world.
The modules form a key architectural feature of the three-storey building's facade and roofline, which represents the Latrobe Valley's industrial history by forming the shape of bucket wheel dredgers.
Ms Sestak said the building would contain 75 per cent locally procured materials, services and trades, and construction was expected to provide 100 jobs.
The completed project is forecast to generate an annual $15 million economic boost for the Latrobe Valley.
The purpose-built regional centre will be the first of its kind in Victoria and house approximately 300 public sector staff.
The state government has signed a 15-year lease with plans for several agencies to be relocated to the premises including Parks Victoria, Earth Resources Regulation and Solar Victoria.
The GovHub will feature modern office spaces, shared meeting rooms, a community hub, business incubator zones, an exhibition space and a locally-run cafe.
When completed, it will be one of the most energy efficient buildings in the Valley.