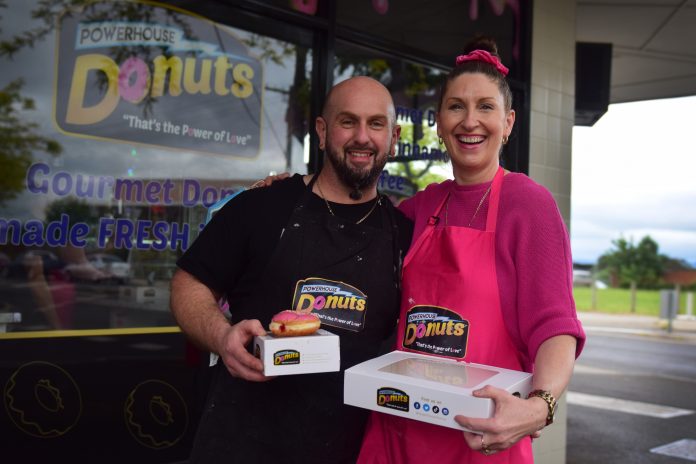 Hayley Mills
Despite its challenges Powerhouse Donuts is open for business.

A rocky beginning for the Niero family finally took a turn in the right direction to see customers walk through the doors of their Church Street shop.
Powerhouse Donuts was set to open in March of this year, but flooding of the building in February, and the COVID-19 outbreak, halted progress.
"We had a machine with major water damage and had to wait for our new machine to arrive from overseas," owner Adrian Niero said.
Looking at the positives Mr Niero said it gave him, his pastry chef and baker more time to create some different recipes.
Mr Niero and his family made the move to the Latrobe Valley three years ago.
"I've got friends who have been living up here all their life, I felt comfortable up here and I've always liked coming up here," Mr Niero said.
"I married a country girl and thought I'd probably become a country boy one day. Since moving up here I've never felt more at home."
Mr Niero and his wife Fiona previously operated a market style stall selling donuts based in Melbourne and told The Express they one day hoped to open a shop of their own.
"It was all by coincidence, we walked past and saw this shop sitting there and we've wanted to do donuts out of a shop ourselves for years," Mr Niero said.
"We found out it was an old bakery, spoke to a real estate agent, saw some old equipment out the back that was being auctioned off, then we asked about a lease."
With the help of a close friend they took to the drawing board to bring their dream to life.
"One of my best mates, he had a lot of input into it. So he, myself and my wife Fiona put our heads together and well, the rest is history," Mr Niero said.
In the lead up to the opening and since then Mr Niero said he has been "excited, nervous and happy, all in one".
"Going from a little area to a big area with more equipment, I was lot more nervous and scared but it's exciting at the same time, giving us room to experiment on different flavours has been great," he said.
"It took a little while to open but we finally got there and we've been inundated with orders which is exciting. We're trying to keep up but we're selling quicker than we can make them."
With seven people employed Mr Niero said their focus was not to produce tens of thousands of donuts a day, but quality over quantity.
The Nieros had intentions to keep the opening on the "down low" for the first week or two to smooth out any hiccups.
"We wanted it to be a trial, but word got around that we were open and that spread really quickly," Mr Niero said.
"They're all happy and we want to make sure everyone gets good food and that's what it's all about.
"We've had some good and some bad feedback and only bad because they didn't get their donuts first."