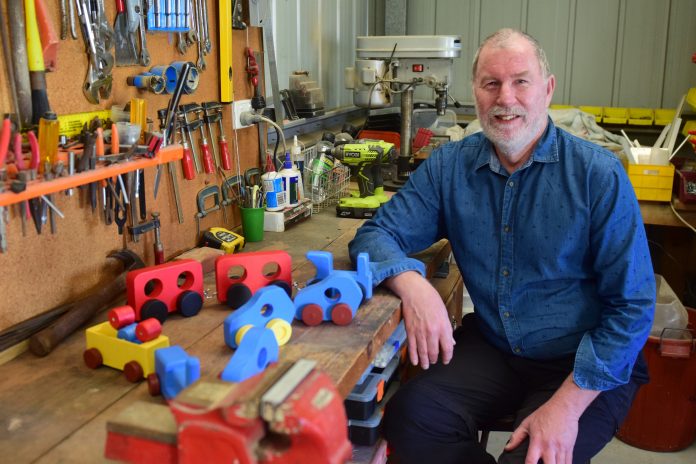 Cher Jimenez
Traralgon's Steve Mitchell was looking forward to an overseas holiday with his wife this year when everything they planned came to a screeching halt because of coronavirus.

Mr Mitchell, a retired contractor who worked at Maryvale's paper mill, was hoping to relax and enhance his skills in photography on a cruise to Vancouver and around Alaska and Hawaii.
The couple are avid travellers and make sure that they fly overseas every two years.
"We're due to leave in April. All our flights and accommodation had been paid for," he told The Express.
With many months spent in lockdown, the 64-year-old retired engineer decided to channel his focus on something he had not done for a while.
Mr Mitchell headed down to his workshop to make wooden toys for children.
He has no formal training in toymaking, although he created some in the past for family members.
"I made a few wooden toys over the years for my nieces and nephews and grandchildren. It's nothing dramatic, just trucks and planes," he said.
Mr Mitchell said he decided to make new toys to give away to children whose families may be struggling to buy them Christmas presents.
He said working on the toys gave him a chance to do "something for a reason".
"It got me out of the house … I was concentrating, no pressure and no timeframe (to complete the toys)," he said.
Mr Mitchell did not have any local organisation or charity in mind while making the wooden toys until he saw a story about The Express' charity giving tree.
Now in its third year, the tree serves as a drop off point where people can donate gift items to children supported by Berry Street.
"A lot of families are struggling at the moment with the lockdown and work and things like that. It hasn't affected us in any major way other than the emotional and social side because of the isolation, so why not help others out," he said.
Mr Mitchell hoped that whoever receives one of his colourful wooden toys would "get some joy out of it".