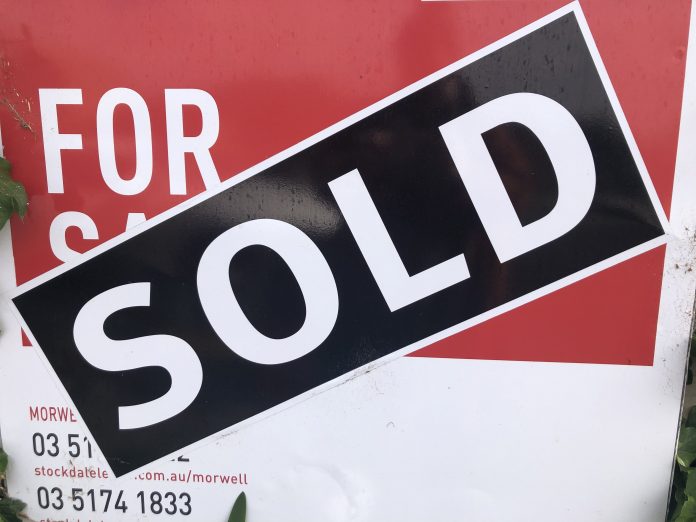 Kate Withers
Property prices in regional Victoria have risen at a higher annual rate than in capital cities for the first time in 15 years, and towns across the Latrobe Valley are following the trend.

New data from CoreLogic reveals house prices in capital cities increased 2 per cent for the year to September 2020, while those in regional markets jumped overall by just shy of 7 per cent.
"Regional markets haven't outperformed metropolitan markets since 2004, so this is quite a phenomenon," CoreLogic research director Tim Lawless said.

"I think this trend is quite entrenched now and it will persist into 2021. Perhaps as we go into mid-2021 we will start to see affordability diminish between capital and regional markets,"

In Latrobe City, the median house price jumped 8.2 per cent, but the starkest change was seen in Churchill where prices spiked a massive 20.6 per cent for the 12 months up to September 30, according to localised figures from the Real Estate Institute of Victoria.
The Moe market also flourished, with prices jumping 17 per cent, while prices in neighbouring Newborough somewhat surprisingly dipped 6.5 per cent.
The hottest markets overall in Victoria proved to be those within two hours to capital cities such as Latrobe, Geelong and Ballarat.
"People can have the best of both worlds and live in a marketplace with lifestyle benefits and lower prices, as well as commute back to big cities if they need to," Mr Lawless said.
"We are seeing demand going into those regional markets. Supply is low. Homes are selling quickly."
Pent-up buyer demand driving price spike

John Kerr director Robert Sim said there was "pent up buyer demand and a shortage of properties to buy" across the Latrobe Valley, but "particularly in the Moe area".
"The good thing about all this is that it's driven by fundamentals – and that is the low stock levels and buyer demand, but the point is that prices around metro areas coming out as far as Warragul have increased dramatically, and that has a ripple effect and naturally flows onto us," Mr Sim said.
"We see Trafalgar and Yarragon no more than 20 minutes down the road from Moe, and the pricing structure there is much higher, so therefore we become a preferred option."
Mr Sim said that contrary to popular belief, the spike in demand was not a phenomenon driven entirely by the pandemic.
"This is the greatest fallacy, this notion that the whole COVID thing has driven people to a lifestyle change is nonsense," he said.
"The Latrobe Valley is really well serviced with retail, medical, commercial and community options, you've got to a two-lane freeway to take you back to Melbourne and V/Line trains that run on the hour.
"I would suggest 50 per cent of our buyers are coming from a westerly direction.
"There is also the fact there are strong local buyers, ready for upgrades or to build, and land value has increased at least 10 to 20 per cent over the last 18 months as well."
But a relatively new trend has seen properties listed and sold in record time.
"That shortened time frame around listing and selling has probably grown as more of a phenomenon in recent times," Mr Sim said.
"I have definitely seen this evolving, partly because of low stock levels of property throughout the Valley and Gippsland, and that's been going on for some time.
"Investment-wise we've got really good rental demand and the rental yield is far better here than in Melbourne, and with super low interest rates investors have to drive their dollar further and they can do that here."
Mr Sim said market buoyancy would carry through the year, with "more of the same" expected for 2021.
"I think probably the fortune is in the favour of the vendor at the moment, and well-presented, well-priced properties will continue to create buyer demand," he said.
"I don't think the situation is going to change any time soon. Confidence will remain."
'Never been busier'

Peter Rennie, of Rennie Property Sales, has been an agent for 42 years and said he has "never been busier".
"I think generally right across the board we have found vacant land in the Valley has been selling very quickly and we just can't get enough of the blocks at the minute," he said.
"The last time I can remember it being this frantic was when they built Loy Yang, and particularly in the last seven months with the government grant."
The First Home Owner Grant, worth $20,000 in regional Victoria, and the HomeBuilder Grant, worth $25,000, have encouraged a "very strong" crop of first home buyers to consider regional living.
"We had a subdivision at Yinnar that has sold out, another development on Gaskin Drive in Churchill which has sold out, and another at Emerald Court in Churchill where 20 out of the 34 have sold and they're not even on the market," Mr Rennie said.
"Anything with a new title is being sold. A lot of people are relocating from Melbourne and even Pakenham and Cranbourne, and a lot of retirees are moving out of the area. A lot of people are moving because it's affordable and they can work from home.
"I think what's happened is the Valley was so far behind a lot of other areas in terms of growth, particularly Moe and Morwell, that all of the sudden we've had to catch up.
"The prices were low and are starting to move upwards and that's across the board.
"And there's still plenty of room in the market because we're still undervalued compared to other parts of the real estate market in the city."
Fire-damaged house in Morwell sells for $41,000 above reserve

A FIRE-damaged home in the heart of Morwell sold for $151,000 at auction on November 28 last year, $41,000 over reserve.
About 50 people turned out to watch the Alamein Street property go under the hammer, on about 800 square metres, and a stunning 35 bids were made.
BJ Bennett and Co Real Estate managing director Graeme Jarvie said the mortgagee sale yielded a "very surprising" result.
"The prices have been exceptionally good and places are getting fairly hard to value and there's really not a great deal to sell at the moment," Mr Bennett said.
"It's been a mix of (buying for) investment properties, people looking for a tree change, but it's just gone ahead in leaps and bounds.
"When Hazelwood closed down people were thinking things were going the other way, but the market is just exceptional at the moment."
A 'very interesting' 2020

"The market is really steady and it pretty much has been like that for quite some time," Keith Williams Real Estate managing director Grant Williams said.
"The number of sales are probably similar year in, year out, but the amount of property to select from is less.
"There's not quite as many people moving around because of the lockdown, but generally the market for buyers has been steady for quite some time.
"If someone asked me how 2020 was, I'd say very interesting because the style of marketing we do and the way we operate as an industry has changed.
"I think we've adapted very quickly and we've been able to cater for buyers' and sellers' needs under the circumstances that were put in front of us."
Mr Williams said regional Victoria "dodged a bullet" by avoiding a full Melbourne-style lockdown, and so too did the local property market.
"Melbourne agents were locked down for almost 3.5 months, so that made it particularly difficult for them, but for us we could still get around," he said.
"Everybody's been talking (the market) up, and prices have held really well residentially and there's certainly plenty of demand, but you'll probably find demand hasn't changed a whole lot, it's just that people have less property to look at.
"I look at it like toilet paper – if you need a roll and there's only one roll on the shelf then you're going to buy it, irrespective of the price or brand.
"When you've got not a lot of property on offer people have got to make a snap decision because the amount of stock is less.
"People will live here if there's employment, and we still need to be finding new projects to diversify the place and have other types of industry to make it more stable."
Record low rental vacancies

"On the rental side of the business we're running at less than 1 per cent vacancy," Stockdale and Leggo managing director Jim Demetrios said.
"I've never seen it that low before in 35 years of real estate, I've never seen such a demand in rentals and sales.
"It's been a great year and we've actually probably seen a good 25 per cent increase in sales over the last 12 months, which has been incredible.
"The biggest problem at the moment is a shortage of stock, but there's plenty of buyers out there and since COVID a lot of people are trying to move to regional."
Despite some towns outperforming others in terms of price rises, Mr Demetrios said "all towns are doing extremely well".
"We do Morwell, Churchill and Traralgon and the demand is great everywhere," he said.
"And it's not even certain price ranges that we're seeing the demand, it's strong in virtually every price bracket across the board.
"The low interest rates are driving it and because of the lack of rental properties a lot of people are looking at the option of buying.
"We're seeing a strong market and a lot of people coming to the area, and we're not just talking people focused on budget price, we're getting people coming here to live basically for lifestyle.
"People are wanting to get out of the highly populated metro areas. People's attitudes to regional living are changing."
Local buyers stimulating the market

Clinton Taylor, of Danny Edebohls Property Sales, described the state of the local property market as "resilient".
"Last year there was a lot of local interest and local buyers stimulating the market," Mr Taylor said.
"Out-of-town buyers couldn't come and inspect, and there is interest from out of town, but I don't think it's any different to what we were experiencing before (COVID).
"It was positive to see how quickly people's mindsets turned positive; there was 8 to 10 days there where things went quiet, but they picked up pretty soon after, which shows there's a fair bit of resilience in the local market."
First home buyer activity is also "steady", he said, with many motivated by the government stimulus for new-builds.
"The first home buyer market increased in my view and it seems as though their budgets has increased a bit as well," he said.
"Most of the activity has been for vacant land sales and it seems to have been a steady growth, and I only see that continuing. I'd like to see more homes coming on the market because for every house you list there's buyers missing out.
"Close to the Moe CBD has been quite popular and in town as well, and I think it's been steady across the board, even in outlying towns like Yallourn North where growth has been steady."