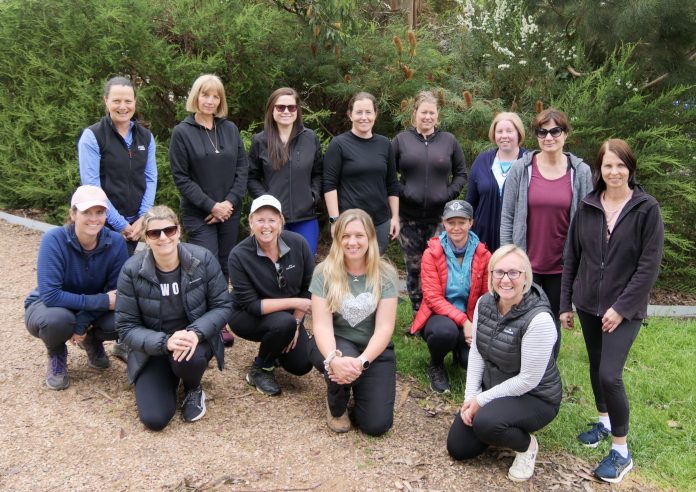 By ALYSSA FRITZLAFF
Gippsland women have raised almost $12,000 to support other local women.
Twenty women have banded together to hike to the Wilsons Promontory lighthouse on Friday November 26 in a bid to raise money for the Go Girls Foundation.
Several of the women involved in the hike are from the Latrobe Valley and nearby areas including Moe, Trafalgar and Thorpdale.
The Go Girls Foundation aim to "empower women in local communities", assisting various groups of women including cancer survivors, those who have experienced family violence, unemployment, homelessness, as well as new immigrants and teen mothers.
The Hike to the Light team have spent almost two years training for the bog day and are proud of what they have achieved.
Team Leader and Hike Coordinator Jess Johnson said the amount raised will allow four Gippsland women to access the foundation's Go Girls Work Ready program.
"I'm very proud that as a group we have taken part in practice hikes, fundraising and organisational tasks together, forming a close bond and working towards a common goal that I am sure will mean we have become friends for life," she said.
"We are all dedicated and passionate about advocating for local women, and that passion has clearly come through for us now that we are about to embark on the hike and spend three days together.
"This hike has also been about creating a positive impact in our own lives, while connecting with like minded people," she said.
Ms Johnson is a massage therapist, reiki healer and emotional healer from Yanakie, however she grew up in the Latrobe Valley.
After moving to Yanakie, she began organising monthly Wilsons Promontory hikes with women all over Gippsland and eventually decided to fundraise by walking to the Wilsons Promontory Lighthouse.
"I started the monthly prom hike in the March of 2019 as a way to meet people in a really non-confrontational environment, we go for a hike, talk about everyday things and have a morning tea afterwards."
"It's just a way of people getting together and walking a talking," she said.
The Go Girls Foundation is based in Melbourne, however they are beginning to branch out, gearing up to facilitate a program for the Bass Coast region in 2022.
Michelle Jobson, co-founder of Go Girls is very supportive of the Hike to the Light team.
Ms Jobson and Rita Bottomley started the foundation in 2008 as a way to make a difference in the lives of women, since then the organisation have run programs in Melbourne, including the Go Girls Work Ready program.
The program assists women in entering and preparing for the workforce.
"All money raised will go to the Go Girls Foundation, specifically the go girls work ready program," Ms Jobson explained.
The decision to bring a program to Gippsland came after Hike to the Light began coming together.
"It became apparent that they were going to raise a lot of money, and they were so excited about that, so our board of directors made a commitment to them that if they raised enough we would come to South Gippsland and run our first regional program."
The program is for women who are "chronically unemployed", helping them to prepare for and enter the workforce, with one part of the program helping women connect with local businesses.
"We are going to involve all the local community… it's going to become a community based program," Ms Jobson explained.
They will be running screening sessions for those interested in June 2022, and the program will run over the second half of the year.
Ms Jobson said they have plans to move to other parts of Gippsland in later years, including the Latrobe Valley in 2023.
While the money raised from the Hike to the Light fundraiser will be able to help many women complete the program, it will not be enough to fund the entire program.
In order to ensure the first regional program can go ahead, the Go Girls Foundation is hosting an event at Meeniyan Hall on February 12th 2022.
The 'Big Night Out' event will feature comedian Dave O'Neill, and a DJ.
It will allow people the chance to get together, fundraise for the program and learn more about the Go Girls Foundation.
At the 'Big Night Out', the women involved in the the Hike to the Light will be honoured as well, Ms Jobson explained.
Hike to the Light team leader, Ms Johnson, reports that many local and national businesses have sponsored the hike to the lighthouse.
"We would like to thank Burra foods, who donated $2,000 and to the staff of the local Bendigo Community Banks in South Gippsland and Bass Coast who have raised quite a lot through selling Go Girl tote bags on our behalf. It's been so pleasing to see the interest from organisations in having local women access this special program," she said.
"It has been an hour to be able to work with the 20 women and be able to pull this together… the support from the community has been phenomenal, we are very grateful."
The group experienced many setbacks throughout over the past two years, with COVID and poor weather preventing many of their planned training hikes.
"We've got a few monthly prom hikers that are coming, and that committed in February last year. We had a team of 20 from March last year, a couple had to pull out due to injury, illness and we actually lost one our our hikers to brain cancer," she explained.
Each hiker was tasked with raising a minimum $300 in the lead up to the hike, which, combined with generous donations from local businesses has neared their current total to $12,000.
Eimear McNelis is one of the women who have been involved with the hike since the beginning.
"I put my name down straight away, I was probably one of the first ones," she said.
Ms McNelis is from Thorpdale and has been hiking with Ms Johnson before the fundraiser came together, often participating in her monthly hikes.
"While I already wanted to go to the lighthouse, it seemed like a bit of a bonus to learn about the Go Girls Foundation and raise some money for them."
She said the group has helped her develop connections with other local women.
"We have formed a pretty close bond… there lots of people with different backgrounds, some a nurses, some are business people, but we all have this shared goal, we're all really passionate about helping other women in our community."
The group will begin their Hike on November 26, and stay the night before returning the next day.
Donations to the Hike the Light fundraiser can be made at https://www.justgiving.com/team/gogirlshiketothelight
To learn more about the Go Girl Program visit, https://gogirls.org.au/
To book tickets for the 'Big Night Out' visit, https://www.trybooking.com/BVFUR