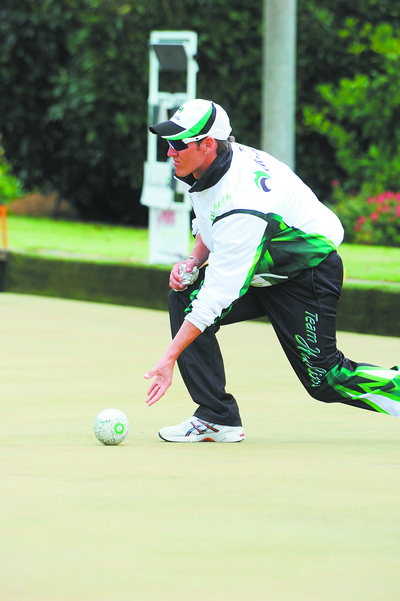 lawn bowls
By catherine mcgauran
The Workways Corporate Bowls League got off to a successful start at the Traralgon RSL Bowling Club on Wednesday night.
The league, which includes 13 four-player teams, was the initiative of Workways staff.
Workways employee Luke Henderson was heavily involved in organising the league.
"We saw just before Christmas that the club needed to raise quite a bit of money to stay afloat," he said.
"Being a not-for-profit ourselves, we thought we should get behind their cause and have a bit of fun at the same time.
"We thought since Traralgon RSL Bowling Club have such fantastic facilities, we needed to get members of the general community in there to show them off."
Henderson then approached the club and with the assistance of seasoned bowlers such as president Jim Saddington, came up with some rules and a structure for a competition.
Saddington thought it was a fantastic idea, and was impressed with Henderson and his colleagues' level of commitment, as well as their bowling ability.
"Wednesday night was really a learning experience, because most of the players have never played bowls before," he said.
"But everyone picked it up very quickly and we're now looking forward to some good competition in the coming weeks."
Once the bowling had concluded, a sausage sizzle was held and three prizes were raffled off including a hamper and a voucher.
At the end of the night $200 had been raised that will go towards supporting the club.
According to Henderson, the main aim of the league is not only to raise money for the RSL, but to give local business an opportunity to network and meet in a social environment.
"We're also really excited that we have some job-seekers playing in teams with potential employers," Henderson said.
"It's just great for everyone to get out in a social environment and maybe even benefit professionally from it as well."
Since last year, the Traralgon RSL Bowling Club has worked steadily to reduce a significant debt.
Saddington said community support is still needed to make the debt manageable.
"The support we have received so far has been fantastic," Saddington said.
"But we're still quite a way off our target figure, so we still really need people to get behind us."
The club is also working on fundraising ideas and according to Saddington, members of State Parliament, Russell Northe and Peter Hall, have been very generous with their time and ideas.
During this week's round of the Workways league, bowlers will be treated to some more expert tuition, as Gippsland-born Australian bowls champion Barrie Lester will be making an appearance.
Lester has a string of international bowls achievements behind him, including a bronze medal at the 2006 Commonwealth Games, and also works as a development officer with Bowls Victoria.
Members of the public are welcome to come and watch the Workways league, which takes place at the Traralgon RSL Bowling Club on Wednesday from 6pm.
For more information on the league or supporting the Traralgon RSL Bowling Club, phone Jim Saddington on 5174 2035.