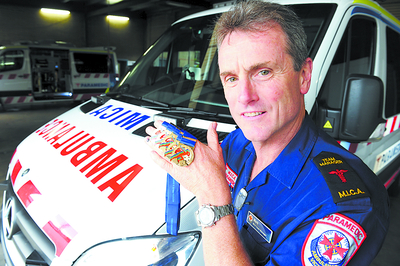 A PARAMEDIC'S perseverance paid off recently when Churchill's Mark Allen walked away with six gold medals and five records from the Victoria Police and Emergency Services Games in Melbourne.
Despite the name, the games are open to people who work for organisations including Parks Victoria and Australian Quarantine.
In swimming's 55 to 59 year-old age group, Allen smashed through the field and the record books in the 1500-metre, 800m and 100m freestyle events, the 200m individual medley, the 50m backstroke and was part of the four by 50m medley relay team.
"I've been in the past about four or five times, but I think this time I prepared better," he said.
"I also moved up an age group, so now I'm competing against guys who are older than me, which helped too."
Allen started swimming as a child, and continued with it to maintain his fitness.
"I've also had a few injuries over the years and swimming is great for recovery," he said.
Allen said he had not swam competitively for a few years, and it was a "great feeling competing again", so he has decided to make it a regular event on his calendar.
But Allen was not the only paramedic from the Morwell branch to find success at the games.
Traralgon's Kassie Alford captained the gold medal winning touch football team for the third year in a row.
"The team was made up of six ambulance officers and two life savers from Lifesaving Victoria," Alford said.
"We've played four times now – the first year we came third, the next we came second and the third, fourth and fifth years we've won."
According to Alford, most of the eight players in the team play in the summer touch football competition in Traralgon.
"Even though we only come together for the event, after playing a few games together we really start to gel," she said.
"The best thing about the games is that everything is played in such good spirit, and it's great to meet other people who work in similar fields."