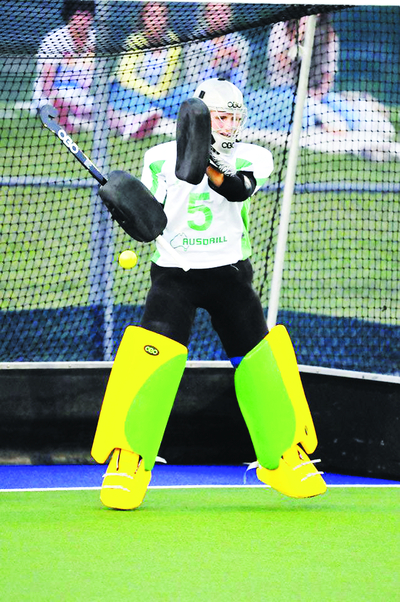 WHILE Morwell's Ashlee Wells will not be part of the starting lineup, her lifelong aspiration to be part of the national Olympic hockey team is within her grasp.
Wells, who once played with the Churchill Hockey Club, was named as the reserve keeper for the Australian Olympic hockey team, but will only be able to play if she replaces one of her teammates.
"This means that I will only get a game if the first goalkeeper is injured and can no longer compete for the rest of the games," Wells said in an email interview.
"When I received the news of my recent selection as the reserve goalkeeper for the Olympics, I was so overwhelmed with excitement; finally something I have worked so hard for my whole life is within reach."
Wells will travel with the Hockeyroos to London for the 2012 Olympics on 16 July where she will continue to be part of the preparation.
The 22 year-old said her initial selection into the Hockeyroos late last year came as a "complete shock".
"I had previously only played two games for Australia, against China last year in Busselton," she said.
"Three goalkeepers were selected into the squad and the other two keepers had far greater experience than I did."
Since her selection in November, Wells has played a majority of the 2012 tours including the recent London Cup, with the exception of the Perth series against Korea.
Wells said while she had been on tour with the team for the past three months, including the Sunshine coast, New Zealand and London, whenever they were back in Perth, they had a "pretty full-on" training schedule.
"We can train up to three times a day with the exception of Sunday, which we get as a rest day," she said.
"Over the next two weeks, our training program will be pretty hard to try to get in some last minute high intensity training before we begin a lighter week right before heading to London."
Nerves have set in for Wells, who admitted to still feeling nervous before "every Aussie game".
"I think it's a mixture of nerves and excitement, which can be a good thing as it can give you that extra adrenalin boost for the game," she said.
Wells is optimistic and plans to train and play as hard as she can, adding she felt she had learnt from mistakes she had made out on the pitch.
"Our results over the last couple of months against some of the top countries shows that we are huge contenders for a medal," she said.
"We have had results against all of the top six teams in the world currently ranked above us.
"There is a great feel among the group; everyone is really excited to get to London and prove that we deserve a medal."