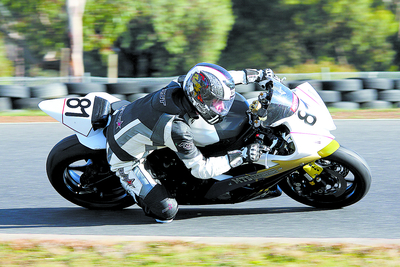 AS soon as 17-year old Ben Currie jumped on a road bike, he knew the sport was for him.
"It just felt right," he said.
Five months after his first outing on a road bike, the Glengarry teenager is already leading the Motorcycle Road Racing Australia under 21 championship and currently sits second in the Victorian Titles (open) and the Perelli Road Racing Series (open).
And his time of 59.7 seconds around the Broadford track is just one second off the record, held by a rider who competes in the world superbike series.
"To get under one minute at Broadford was incredible," Ben said.
"My first lap I ever did around there was one minute 11 seconds five months ago, so I'm pretty happy with my improvement."
Although the sport was new to Ben, he was no stranger to success on the bike.
With eight years experience in motocross, he said he fell into the new discipline "by chance".
"We're friends with Robbie Phillis (former superbike rider) who invited me to Melbourne around Christmas to try out a 125 GP bike," Ben said.
"I was hooked straight away."
Soon after, his father Dean purchased his son a 600cc stockbike and entered Ben in his first race, round one of the Victorian Titles in which he came seventh overall.
When asked what attracted him to a sport that plays out at 260 kilometres per hour, Ben gave a somewhat surprising answer.
"I'm not an adrenalin junkie or anything; I don't go around looking for crazy things to do," he said.
"I like it because it's very calculated and professional, and it gets a lot of attention.
"I guess it's a little bit of attention seeking."
Later in the year, Ben will compete in the support class to the Moto GP at Phillip Island, which will also be his "hero" Casey Stoner's last race.
"I'll get to hang out with them a bit in the paddock; I can't wait actually," he said.
In 2013 Ben said he was aiming to compete in the Australian Superbike Championship which will take him across the country.
So what is it like when a father tries to teach a speed-demon to drive a car?
"He's excellent," Dean said.
"He's a really safe driver because he knows what can happen."