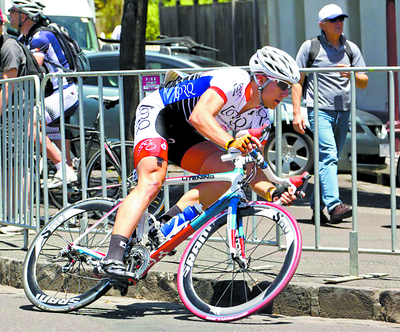 The Lakes Oil Tour of Gippsland is set to be "short and sharp", according to Warragul cyclist Brenton Jones.
"Having the format of a criterium in the morning and a road race in the afternoon, it's a bit different to other races in the national road series but I think it'll suit me," Jones said.
Jones, whose younger brother Jarryd is also competing with the Torq/Bicycle Superstore team, is in his second year on the national road series.
He has already endured his share of pain – last year he was involved in a high-speed collision during a race in Toowoomba and was placed in an induced coma.
"I was off the bike for a few months, and it's only recently that I've started to come back to form and get some good results on the board," he said.
Remarkably, one of those "good results" was a third at Toowoomba, in the same stage he crashed out in last year.
"It was a pretty good feeling to get that result there a year after my accident," he said.
Despite the seriousness of his injury and the three months of rehabilitation and occupational therapy that followed, Jones said the accident had not dampened his desire to ride.
"I guess in a way because of the rehab it took me a while to get back on the bike, but it hasn't affected my motivation and where I am today," he said.
"I'm just ticking off the boxes one by one."
Eager to get a head start in his home race, Jones had already ridden the Morwell to Yinnar leg and was looking to inspect the Moe criterium leg before the race.
"Morwell to Yinnar is fairly hilly up around Narracan and into Thorpdale; it'll make for a very good tactical race and will definitely sort the strong from the weak," he said.
"From what I remember Moe is a fairly fast course for three quarters of the track and then the finish has a little rise, so it'll be a tough finish.
"The course is great and I think the event is going to be really exciting."
Being part of the national road series, Jones expected about 150 riders to start in the Tour of Gippsland, including the "best of the best".
Accordingly, Jones was aiming high and would like to secure a stage win on the tour.
"To get a first in a stage at this level is what I'm aiming for now," he said.
One day, Jones said he hoped to ride the Tour de France, and believed things were looking good "for a few years down the track".
"For now I have to keep my head screwed on and work hard."
The Tour of Gippsland will run from 1 and 5 August.
For information on course details visit www.caribou.net.au/tour_of_gippsland.html