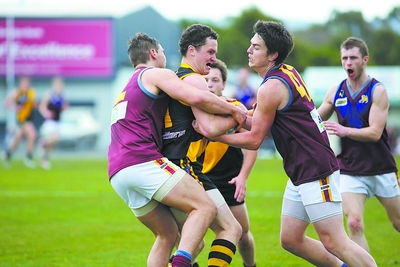 Moe faces an uphill battle to when it meets Maffra at Ted Summerton Reserve in the split round of Gippsland football this weekend.
The Eagles are clinging onto third spot on the ladder and will not want to take a gallant Moe too lightly.
Against Morwell the Lions were outclassed but kept fighting until the final siren.
Moe has continued to rebuild, and players who were considered not up to Gippsland standard early in the year have matured as the season progressed. The Lions have unearthed a few talents in Declan Keilty and Geoff Whelan.
Sixteen year-old Declan has the potential to be one of the stars of Gippsland football.
Injuries to key players including James Blaser have hindered the development of the team, but it has not dampened their spirit.
Blaser was having a great season and his injury has put more pressure on Peter Ainsworth, Tom Long, John James, Ben Kerrigan, Gary Blandford, Kane Airdrie and Stuart Robertson.
Maffra has also been hit hard by injuries, with star full forward Adrian Burgiel out for at least four weeks with a broken jaw.
The Eagles still manage to get the job done each week and are always a dangerous side.
Bairnsdale v Warragul
The Bairnsdale and Warragul clash promises to be a close match.
Both sides have caused a few upsets this season but they are too inconsistent.
Warragul can match it with the best for half a game but fade out in the second, while the Redlegs have been hit hard with injuries.
Home ground advantage is the key to this match and expected the Redlegs to turn it on in front of their supporters.
Drouin v Leongatha
While Drouin is out of the finals race it has the ability to beat Leongatha, providing it plays four quarters of football.
The Hawks have the opportunity to define the top three with games against Traralgon and Maffra.
Sides travelling to Drouin always have a tough task but Leongatha seems to handle it better than most sides.
Leongatha, after a few turbulent weeks, has settled down to playing finals football and if it is to seriously challenge Sale for this year's major prize, it must beat Drouin.
The Parrots will be without coach Will Thursfield who has a hamstring problem, but Zac Vernon is back in the side.