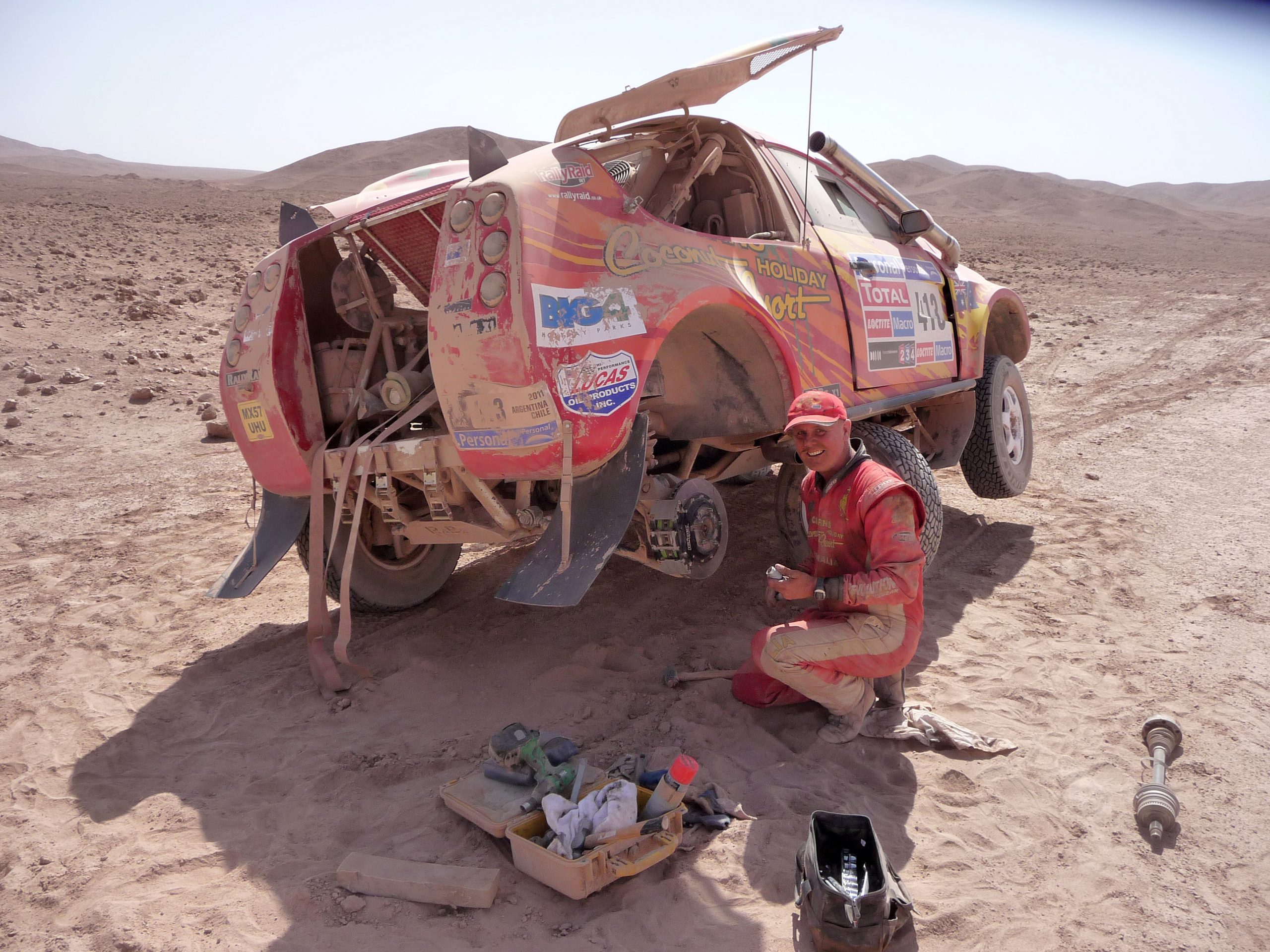 MANY drivers dread the prospect of changing a tyre under any circumstances, let alone in sweltering heat atop a sand dune in the middle of a South American desert.
For Leongatha dairy farmer Steve Riley, that is just one responsibility in the 2013 Dakar Rally, in which he is currently co-driving for Western Australian Adrian Di Lallo through about 8000 kilometres of gruelling terrain over two weeks across Peru, Argentina and Chile.
The 50 year-old adventure seeker embarked on his second Dakar on 5 January, after finishing 27th in 2011 with the Coconut Resort Race Team, in an event where the ultimate goal is simply crossing the finish line.
"The Dakar is always about finishing; if you go from the statistics only about a third to the half of the people finish… it's that adventure trying to get to the end that it's all about," he said.
"It's a crazy French event in a Spanish speaking country; it's a real mish-mash of cultures and languages and the whole thing to me was a big adventure the first time and it's a great passion for me to go and do."
As a three time winner of the Australasian Safari rally, Riley was sought out by Di Lallo and his Red Earth Izuzu team for his expertise and experience in vastly disparate conditions to Australia.
"It's terrain like you've never seen," Riley said.
"The sand dunes are two kilometres high over there; they're as high as Mt Kosciuszko and then you have the Andes behind them.
"It doesn't rain there, it's 20 times drier than the Sahara desert; It's like racing around Mars."
After growing up on a Gippsland farm surrounded by motor vehicles, Riley took up motocross before turning to cross country rally racing.
The experienced campaigner will take on some driving duties in the 2013 Dakar, but his main purpose is to navigate and keep the car running throughout the marathon event.
The Atacama desert, where NASA tests its space landing vehicles, looms as the main stage for the rally which comprises monster sand dunes, high altitude mountain passes, wet and dry river crossings and kilometres of rocky tracks.
"The terrain is really hard so it's hard on the vehicle and things break all the time and you've got to sort of get out some bush mechanic skills," Riley said.
"Sometimes it's a bit of fencing wire, sometimes it's a zip tie, sometimes it's an electrical (piece) to keep the thing going."
With 400-600km to traverse daily, under oppressive heat conditions in the South American summer, the physical challenge is another hurdle for competitors.
"The other thing over there is it's extreme heat," Riley said.
"It's like racing around Alice Springs in the middle of summer."
Riley and Di Lallo are competing with 459 other vehicles (bikes, quads, 'cars' and trucks), representing a new record of 53 different countries for the 35th running of the rally. The team made a slow but steady start to the rally, after losing time tracking a compulsory GPS waypoint in stage two, and sat in 90th place after the stage.
To follow the pair's progress, check in at www.facebook.com/redearthmotorsport or on Twitter @redearthms or
www.redearthmotorsport.com
All Dakar results will be posted on the official website www.dakar.com