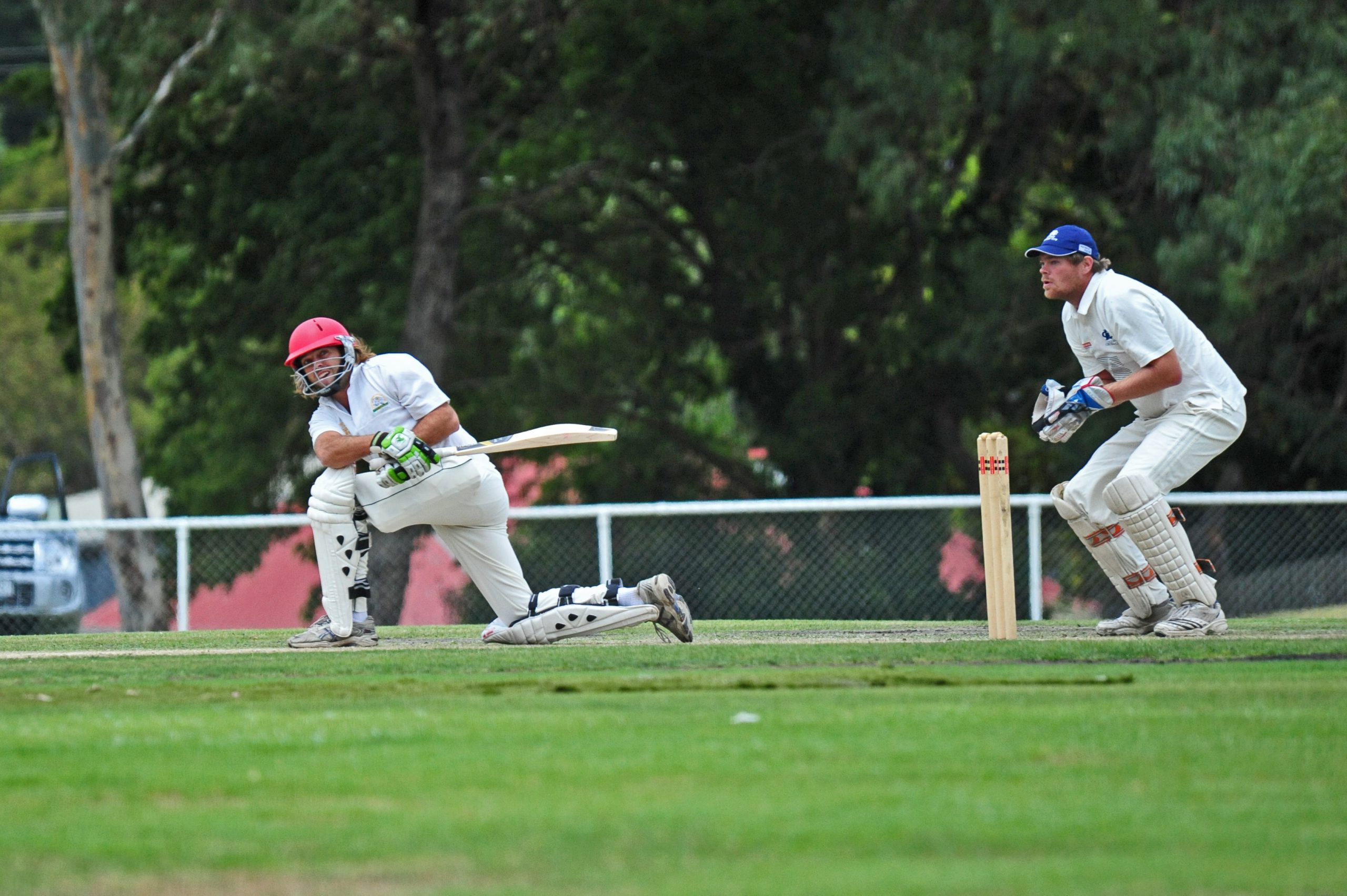 CRICKET
TDCA
CHURCHILL produced a season high 353 runs as they plundered a spiritless Tiger attack to every corner of Andrews Park in day one of Traralgon and District Cricket's 11th round.
Glengarry recovered from 6/54 to put itself in a winning position with a score of 9/246, and a blunder with the pitch covers at Traralgon South left the CATS and Ex Students match in a precarious position.
Churchill v Gormandale
THE Cobras won the toss and had no hesitation in batting on what looked like a "Melbourne Airport runway".
What transpired for the next five hours was utter domination as the Churchill bats destroyed the much vaunted Gormandale attack.
Only five wickets were lost as the home team reached a remarkable 353.
Ben Kearns moved to 668 runs for the season with an enterprising knock of 60, Chris Williams made a fantastic 78 and John Keighran chipped in with a smashing 56.
The carnage continued when Nic Duncan, batting at five, tore the bowlers to shreds with a blazing 70, while Ryan Ayers contributed 30 not out to the total.
The best of the beleaguered bowlers was Stuart Anderson with 2/84 off 28 overs.
Glengarry v Raiders
RAIDERS captain Brad Knowles looked a genius when Glengarry faltered to 6/54 after being sent in, but his masterstroke took a sour turn as the Magpies fought back to post a commanding 246.
The star for Glengarry was Frank Marks who fell one run short of a rearguard century when caught behind for 99.
Chris Johnson made 30, while Tim Spotswood made a crucial 50 not out batting at nine. Brad Knowles claimed 4/56 to be best for Raiders.
CATS v Ex Students
Reminiscent of a "Keystone Kops skit" the covers blunder at Traralgon South turned this important game for Ex Students into a nail-biting finish.
With all the water going back on to the pitch the game was delayed for three hours, and when play finally started CATS won the toss and had no problems bowling first.
After 37 overs the Sharks were all out for 111. Lee Stockdale (30) and Rory Hare (22) were best on a testing wicket. Playing against his old team Sam Farmer nabbed three wickets, while Connor Sloyan and Dav Charleston took two each.
Ex Students took to the field for the remaining 19 overs full of fire and snared a vital four wickets.
CATS at one stage was cruising at 1/38, but disaster struck as it lost a further three wickets at 39 to finish the day 4/52.
Dan Nicholls was out for 24, while Michael Warne made inroads with 3/15.
Rovers v Toongabbie
AFTER winning the toss Toongabbie batted first and Steve Nicholls found form to top score with 79.
Matt Golding made 34, while Anthony Scott accumulated 33 before the Rams were bowled out for 193 after 44 overs.
Todd Mann claimed 5/62 in a rousing effort for Rovers, while Faaz Hasan supported with three wickets.
Rovers started disastrously when Mark Thompson departed for a duck, but from then it was rarely troubled in 36 overs and reached a commanding 1/110.
Simon Duff is 55 not and Nilla Thillekarathna is 45 not out leading in to this weekend's play.
Imperials v Centrals
CENTRALS won the toss and elected to field only to watch Imperials put on 53 for the opening wicket between Nathan Stewart (43) and Matt Ross (14). Brad Sizeland top scored with a solid 44 as Imperials were ultimately dismissed for 181.
Alan Campbell took 4/36 to be best for Centrals.
After facing the final 13 overs for the daym Centrals reached a good position at 1/44, with Jimmy Hall 26 not out at the close of play.
B grade
MTY Raiders – 95 v Glengarry – 1/41 (M Sharp 3/25); Toongabbie – 4/46 (K Stoddart 33 and 4/36) v Rovers – 157 (D.Williams 63); Centrals 7/275(cc) (N Celima 101*, RL Wilkie 52) v Imperials; Gormandale 216 (C Bell 79, M Jacobsen 78, S Warr 3/22) v Churchill 0/20; Ex Students – 0/140 (J.Gilmore 95*) v CATS 131 (L.Hendersen 4/30, A.Jaensch 3/6).