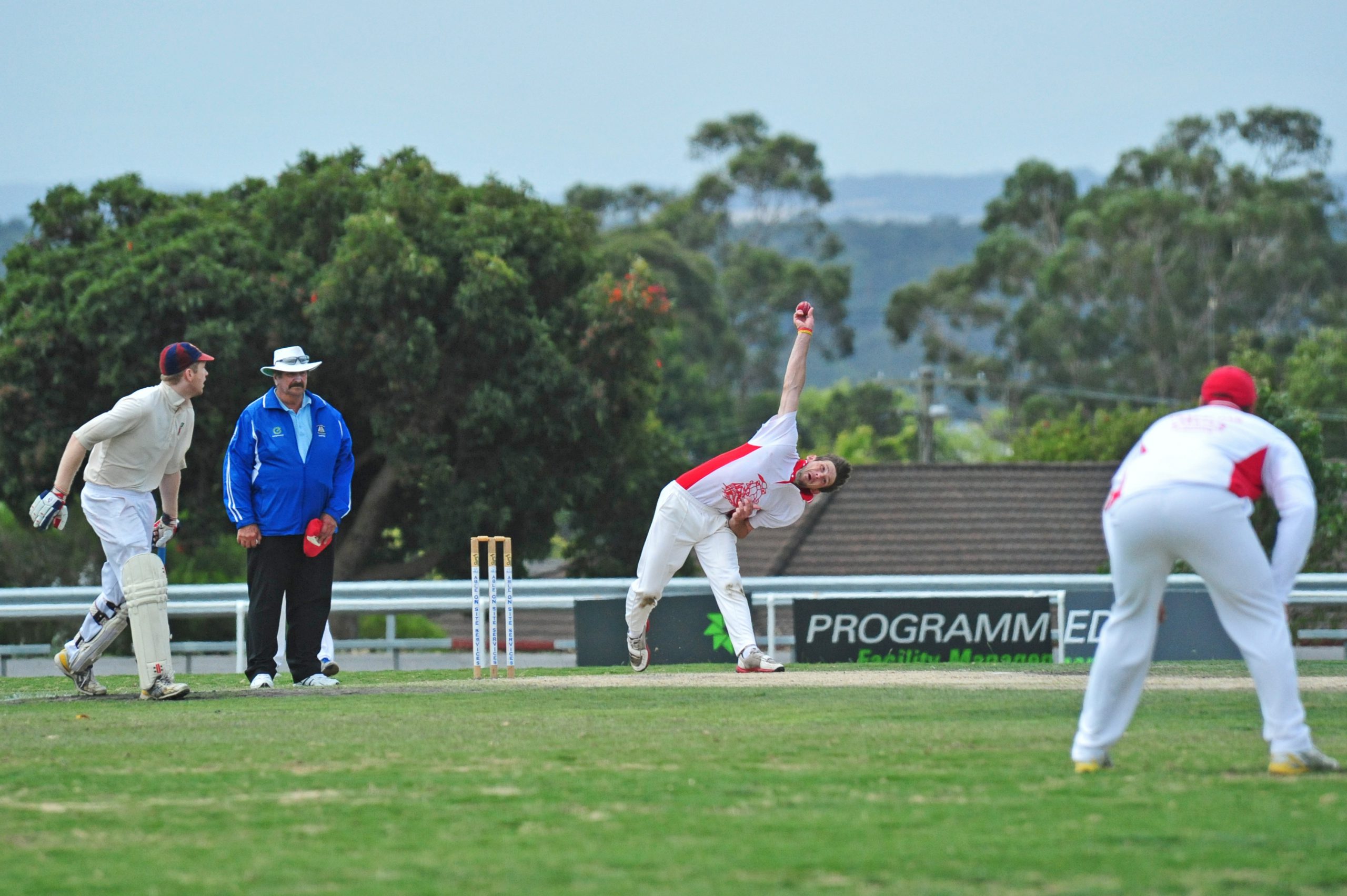 CRICKET
CGCA
LATROBE widened the gap at the top of the Central Gippsland Cricket table with an outright victory over Thorpdale.
Tim Cranwell scored a fine half-century in partnership with Ash Halkett to push the score along to 7/245 and an overall lead of 137 on day two of round 11.
Travis Pickering was Thorpdale's best bowler with 3/42.
A timely declaration allowed the Sharks to roll the Blues for 111 in their second dig, with only Harvey Poole's belligerent 52 slowing down the rout.
Poole received some support from Jason Richarsdon (26) along the way, but five ducks from the rest of the lineup did little to help stave off an outright.
Brendan Evans was the star with 3/40, while Halkett and Mitch Cowell each took two wickets to complete a big victory.
Trafalgar began the day looking to increase its lead over Moe, but after the dismissal of captain Rhys Holdsworth for 72, Lions Aaron Walshe (3/16) and Andrew Philip (4/26) combined to take the last six wickets for no runs as six Ships failed to trouble the scorers.
Moe then scored 2/167 in 26 overs in a mad dash to set up an unlikely outright win, with Sean Spiteri's 83 not out the best knock of the game, while Philip played well in support for 69.
Set 128 to win the Ships cantered to the finish line with Chris Robinson (42*) setting the game up while Holdsworth scored his second half-century of the match.
Mirboo North won first innings points against Morwell, posting 241 in reply to Morwell's 169 last week.
Shane Peters top scored with 63 before being removed leg before wicket by Mark Cukier, while Pete Grima amassed 43 in one of several support acts.
Morwell reached 6/90 in their second innings, as Jesse Giardina (28) and Cukier (23) held out long enough to deny their Tiger counterparts a chance at outright victory.
Second grade
MOE was skittled for 57 by Yallourn North as Darren Wilkie (4/12) and Gavin Pearson (3/8) ensured the misery continued for the Lions. Ayden Kelly and Nick Clarke were the only Moe batsmen to make double figures.
Josh Keyhoe then blasted 173 as the Bombers closed at 8/287 in a massive win, which saw Ryan Nelson make a supporting 54.
Frank Manduci was the Lions' best with 3/64.
Mirboo North powered to 7/335 after being put in to bat by Thorpdale.
Steve Rogers struck 88 while Connor Williams hit 68 and Matt Snell 42.
Brendan Van Heurck missed out on a century when he was caught out for 91.
Blaeden Dyke took four wickets but was expensive, conceding 82 runs from his 10 overs, while Nathan Hammond took 3/40.
In reply, the Blues were all out for 68 as Liam Smit rediscovered his old rhythm to take 4/16.
Blake Mills hit 70 and Wayne Fleming 49 as Morwell defeated Rawson.
Batting first the Tigers reached 8/205 before dismissing the Kookaburras for 88.
Mills was again the star with 4/23 while Keith Soden cleaned up the tail with 4/7.
Dylan Lee was the only bright spot for the visitors, top scoring with 29 and taking two wickets.
Latrobe reached 182 against Newborough thanks to Steve Fry, who struck 51, while Kris Wells chipped in with 39.
Troy Oakley was the home side's best with 4/36.
In reply the Bulldogs folded for just 71 as Jon Hayes took four wickets.
Daniel Farmer top-scored with 29.
Trafalgar posted 9/202 against St Vincent's as Mitchell Williams scored 53.
The Saints then collapsed to 92 all out with Darren Hansch (4/14) doing most of the damage. Gary Larkin top scored with 23.
Third grade
MOE reached 205 all out against Latrobe after Garry Clerks hit an aggressive half-century.
The top six all got starts but were pegged back by Dean Burridge and Tim Van Dyke (both 2/46) while Marc Nikodemski bagged 3/29.
Luke Van Dyke and Brett Fernandez were the only bats to stick to the task as Jakob-Lee Cassar blasted through the Sharks with 5/29 to dismiss the home side for 112.
St Vincent's Green was bowled out for 102 by Morwell with Troy Tobin's 32 its best effort.
Alex Henderson then took advantage of the Saints playing one man short to score a fine fifty and power his team to a win.
Mohammad Shakeel's 63 lifted Hazelwood North to 6/200 against Newborough, despite a good spell by Brooke Forrester which yielded three wickets.
In reply the Bulldogs could only manage 8/157 as Brendan Ruddell took 5/14 to bowl his team to victory.
Justin Blair struck 85 for St Vincent's Whites against Jeeralang-Boolarra. Ben Duffy scored 38 but the rest could only manage 43 between them as the Saints were dismissed for 166.
Matt McGrath was outstanding, taking 7/26 including a hat-trick.
Ryan Wilk was the Panthers' only bat to make double figures as they were dismissed for 139, almost singlehandedly dragging his team across the line with a valiant 92 not out.
Mirboo North struggled to 8/124 against Willow Grove in the face of Jack Brown and Alex Pearman, who each claimed two wickets each.
Brody Hams then struck an unbeaten century as Willow Grove romped home by eight wickets.