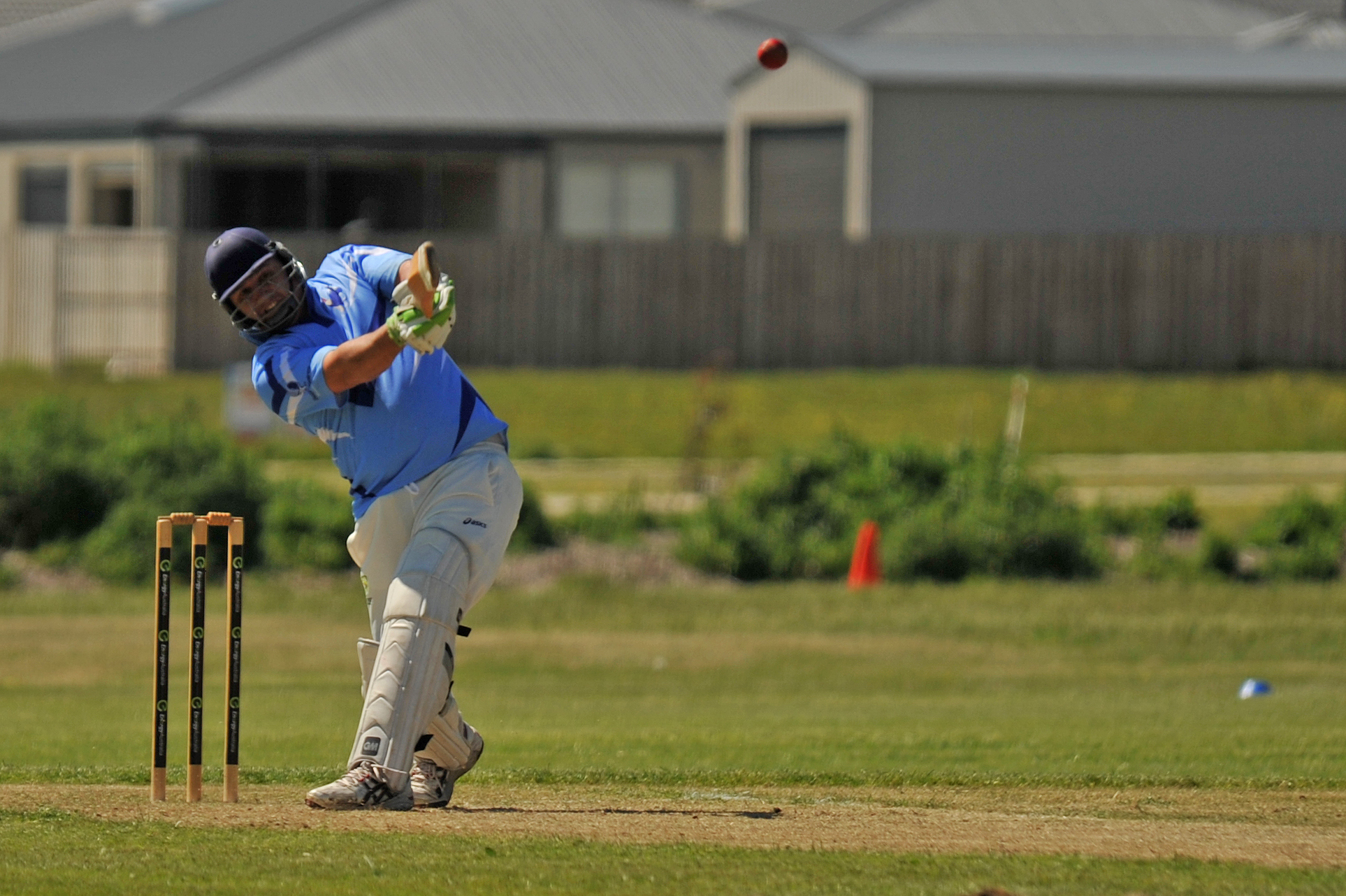 Latrobe v Moe

BAD light robbed both Latrobe and Moe of what promised to be a cracking finish in the first round of the Energy Australia Cup.
New Sharks captain Brendan Evans won the toss and chose to bat, and Latrobe made a great start as openers Anthony Bloomfield and Justin Vajler put on 99 for the first wicket before the latter was out caught for 49.
Bloomfield continued on with youngster Brad Aitken for company, but just as he looked set to kick up a gear in the last 10 overs he was bowled by Jayden Mathison for 69.
Aitken batted well for his 35* to steer Latrobe to 3/179 with some late hitting from Daniel Siddle and Mark Lawrence boosting the total.
Jayden Mathison was Moe's best with 2/29 while leg spinner Damon Bednarski took the only other wicket to fall.
Dylan Lee was dismissed early on his Moe debut and when Mitch Cowell followed up with the big wicket of Moe captain Andrew Philip for just 8, the Sharks looked to be well in control at 2/27.
Sean Spiteri started to take the bowlers on and was finding the gaps nicely before a lapse in concentration saw him offer a catch to the bowler, departing for 35.
Nathan Lee was aggressive, but was dismissed before he could have much of an impact.
The experienced hand of Aaron Walshe came to the fore to set up an exciting finish.
A 57-run stand between Walshe and Jacob Mulqueen dragged the Lions back into the match but when Matt Brewer ran out Mulqueen after a poor call from Walshe, Latrobe was back in the hunt.
Evans picked up the big wicket of Walshe for a fine 52 with a return catch, and at 7/157 with 3.5 overs remaining it looked set to go down to the wire.
However fading light ensured the match ended early due to concerns about player safety and both sides would be justified in feeling robbed of the points.
Yallourn North v Morwell
ANOTHER new skipper won the toss out at Yallourn North however it was a less than happy return for Morwell's Davin Charleston as his side slipped to a three wicket loss.
Batting first, Morwell lost Kris Fortuin early while Craig Giddens did his best to stabilise the Tigers' early innings.
But Giddens' dismissal for 37 triggered a massive batting collapse and the Tigers stumbled from 2/73 to 115 all out, with Rowan Kelly's remarkable 6/22 tearing the heart out of Morwell's lower order. Morwell's other returnee, David Embleton, had a good second debut as he top-scored with 39, but his side was rounded up after facing just 34.2 overs in a disappointing display.
Yallourn North lost Aidan Vesty early as the opening partnership continued the same struggle it experienced last season.
Andrew Petrou and new captain Paddy Spiteri both came and went for just 10, while Josh Keyhoe got a start but was dismissed for 22.
The Bombers needed someone to guide the chase and it was Tyler Brown, one of their youngsters, who took on the challenge.
Brown expertly found the gaps and shepherded his teammates across the line, run out for 41 only after the target had been passed.
Tim Dowe bowled well for the Tigers to claim 2/21 while Charleston had a better return with the ball, picking up 3/28 from his 10 overs.
Newborough v Trafalgar
NEWBOROUGH endured a chastening return to the top division as it was bundled out for just 51 by Trafalgar.
Batting first the Bulldogs were in trouble from the start, regularly losing wickets as only Anthony Faltum, Steve Johnstone and David Reynolds made it to double figures.
Daniel Heathcote dismissed the Bulldogs' top three to finish with 3/12, while Trevor Cox's first three deliveries after five years out of the game netted him a hat-trick.
The Bulldogs had a decent if unspectacular start and at 2/30 looked as though they could be competitive.
However Faltum's dismissal for 12 triggered a collapse of 8/21.
Five Newborough batsmen failed to score as they were dismissed in just 27.4 overs.
Trafalgar had no intentions of taking it easy on the beleaguered Bulldogs, passing the target in the fifth over of the innings as James Blaser punished all comers on his way to a towering 146, before finally being dismissed by Newborough captain Matt Coutts.
Chris Robinson's first ever hundred came at a relatively slower pace, although it would hurt Newborough to see one of its former clubmen succeed so heartily against it.
Trafalgar captain Rhys Holdsworth struck a typically aggressive 57 and with his dismissal, again by Coutts, the Ships decided that enough was enough and called the game off after 32 overs with the score at 2/335, a run rate of 10.47 runs per over.
Matt Coutts picked up the two wickets but went for 94 runs off his 10 overs, while some of the other Bulldogs to feel the heat were Robert Blunt (0/54 off four), Daniel Farmer (0/43 off four) and youngster Royce Colgrave had a first grade debut to forget, adding 0/73 off eight overs to his dismissal for nought with the bat.
The Bulldogs face a huge challenge to regroup next week when they take on last season's premiers, Mirboo North.
Thorpdale v
Mirboo North
THORPDALE won the toss and bowled first against Mirboo North, with new recruit Ayden Kelly the only bat to get going before he was out caught on 26.
The Blues' South African import, Fraser Smith, endured an ignominious start to his CGCA career, run out without scoring.
Jason Richardson (16) and Harvey Poole (15) were the only other bats to make double figures as the Blues ended their 45 overs at 9/95.
Steve Rogers claimed 4/10 to tear through Thorpdale's middle order, Liam Smit bowled well to claim 2/21 while Clinton Wise and United Kingdom import Callum Buckley picked up the other wickets to fall.
One of last season's premiership heroes, Jed Alexander struck 30 but it was Hudson Kerr who stole the headlines with a superb unbeaten century. The 17 year-old batsman demonstrated composure, technique and great patience to guide the Tigers to 7/195 at the end of the innings.
Jason Richardson was Thorpdale's best bowler with 2/29 while Ayden Kelly (1/19) and Shannon Pickering (1/17) also bowled well.
SECOND GRADE
Morwell v Thorpdale
Morwell's Steve Esler had a day out with the ball against a hapless Thorpdale outfit, which was rolled for just 29.

Extras was the Blues' top scorer with seven runs being gifted to the total by Morwell's bowlers, while youngster Nathan Hammond, Murray Cornwall and veteran Tony Grima all reached the highest individual batting contribution with just four runs.

The innings started innocuously enough with Lachlan Day and Roger Henry keeping the batsmen under pressure before skipper Marty Giddens threw the ball to Esler, who proceeded to wreck the Blues' innings with a scarcely believable 10/9, six of them bowled.

Thorpdale was all out after 20.1 overs entirely due to Esler's haul, which included a hat-trick.
Morwell made short work of the target, cruising to 4/104 in 24 overs before calling it a day.

Steve Bilic was Morwell's best with an unbeaten 35, while Tim Cornwall restored some pride to the shell-shocked Blues with 2/9.
Latrobe v Mirboo North
Mirboo North received one of the strangest get-out-of-jail cards in recent memory as an accident in the surrounding area saw a helicopter land on the field and delay play, resulting in an hour being lost.

The game was called off due to bad light with Mirboo North barely hanging on at 9/93 in reply to Latrobe's 8/139.
Steven Freshwater led the way on his returning debut for the club, stroking a fine unbeaten 59 and carrying his bat, while Shayne Vallance and Jamie Brierley chipped in with valuable starts.

Riley Oddy (3/19) and Andrew Soplakow (3/25) restricted the Sharks' attacking instincts and kept them to a gettable score.

Dale Banks bowled well despite carrying an injury to pick up 2/25.
A blistering start with the ball by Brierley (4/13) saw Latrobe stymie the Tigers' chase before the interruption, and regular wickets fell thereafter to offspinner Trent Roberts (3/11), but fading light saw Mirboo North escape with a draw.
Moe v Yallourn North
Moe posted 7/142 against Yallourn North with newly-appointed skipper Paul Cake the only significant contributor with 62.

Will Lawrey Jr was the Bombers' best bowler with 3/35 while Stephen Pearson chipped in with 2/15, the rest of the bowlers doing the job and restricting the scoring.
Ben Noy and Ron Whitney, playing his first game for the club after leaving Newborough Bulldogs, got Moe off to a good start with two wickets apiece, but a surprise promotion for Daniel Martini to first drop saw him post a maiden senior half-century, an unbeaten 65 and together with Pearson, who also hit 65, guided the Bombers past the target with relative safety.
Jeeralang-Boolarra v Rawson
Batting first, Jeeralang-Boolarra was off to a great start in defence of the title.

Craig Blackberry hit 45 and Stan Urbanic 85 as the Panthers reached 8/202, with Chad Williamson, Alex Sword and Ben Rotheram all picking up two wickets each.
Rawson reached 15 without loss but it was all downhill from there as Urbanic (5/17) blew the Kookaburras away, and they were eventually dismissed for 45.

Sword's 32 was responsible for almost half of Rawson's total, while six bats failed to get off the mark.
Trafalgar v St Vincent's
Trafalgar batted first and Brendan Dawson wasted no time in getting the Ships off to a flying start, his well-made 42 ending when he was trapped in front by Brett Dowdell.

Jackson Noonan (26) was the only other major contributor as most of Trafalgar's lineup chipped in to push the score along to 9/181 at the close. Dowdell (2/35) and Gary Larkin (3/52) were the best bowlers for the Saints.
George Smith's 3/31 ensured a problematic start for the Saints as they went down without much of a fight, Gavin Blair the highest scorer with 23*, while Glen Hebbard contributed 20. Kingsley Rajasingam blew the tail away with 5/16 as St Vincent's folded for 104.