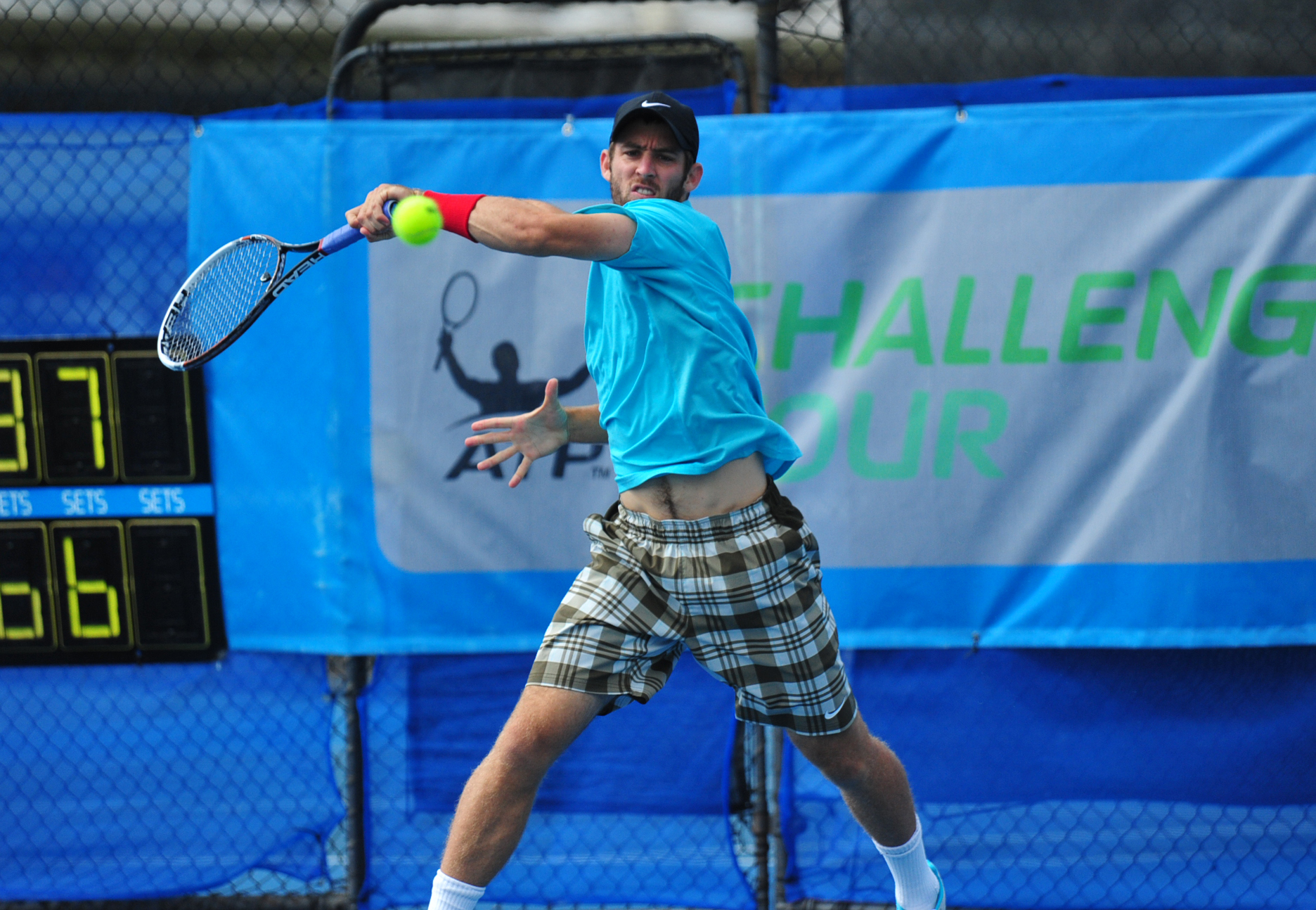 TENNIS
ATP CHALLENGER
By SAMUEL DARROCH
AUSTRALIAN Davis Cup representative Thanasi Kokkinakis and last year's runner-up Bradley Klahn (USA) are among the drawcards for Traralgon's ATP Challenger tennis double feature, starting this weekend with qualifying.
Following the success of the inaugural ATP Challenger event at Traralgon Tennis Association, the club secured back-to-back Pro Tour events for its second coming, with a host of top 200 world-ranked players set to compete in the region over the next fortnight.
The bulk of the field has nominated for both events and contains the likes of Traralgon favourites Ben Mitchell and Luke Saville, highly ranked Japanese players Go Soeda and Hiroki Moriya and Australian Matthew Ebden, on the cusp of the top 100.
TTA manager Susie Grumley said she hoped to see the town turn out to "appreciate how good they all are in your own backyard".
"What we really want is to get the word out there to get more people down here to watch… some of these Aussie kids won a couple of rounds at Wimbledon this year, and some of these guys are in the top 110 in the world," Grumley said.
"They're top international players, they're not your Federers or top 20, but they're people that will probably, a lot of them, play the Australian Open."
United States world number 122 Klahn, who has a career high ranking of 63, will be among the men to watch after dropping a rain delayed final to Yuki Bhambri last year.
Klahn, who arrived in Traralgon early this week, has twice reached the second round of the US Open and at 24 years of age is poised to break through at grand slam level.
Branded as one of Australian tennis' 'Special Ks', alongside former Traralgon ITF Junior champion Nick Kyrgios, Kokkinakis is another threat having surged to world number 158.
The addition of world number 111, and British number two behind Andy Murray, James Ward for Challenger 2 will shake things up significantly in the second week of play.
In another first for the event, Tennis Australia will work with IMG to livestream every main ball match via the ATP website.
Along with the club's ITF Junior International, the event brings in more than $1 million in direct spend, and more than $2 million in indirect spend for the region.
"It's great for the town, the money that it brings in, the economic impact that it has with the restaurants and the accommodation and everything is amazing," Grumley said.
"Some of them (the players and their entourages) are here nearly three weeks."
The Traralgon ATP Challenger 1 runs from Saturday through to 2 November, and is immediately followed by Challenger 2 from 1 to 9 November.
The main draw begins on Monday, with grand final days scheduled for 2 and 9 November.
Spectator entry is free.
For more information visit www.tennis.com.au
PLAYERS TO WATCH

Go Soeda (JPN)

Age: 30 | Current world ranking: 112
Career high ranking: 47 (July 23, 2012)
2014: Won Busan Challenger, Nan Chang Challenger
2013: Won Maui Challenger, R/up Beijing Challenger, Yokohama Challenger
2012: Won Honolulu Challenger, Pingguo Challenger, Kaohsiung Challenger, R/up Singapore Challenger
2011: Won Pingguo Challenger, Wuhai Challenger
James Ward (GBR)
Age: 27 | Current world ranking: 111
Career high ranking: 110
2014: R/up Lexington Challenger, SF Vancouver Challenger, Istanbul Challenger
2013: Won Lexington Challenger, R/up West Lakes Challenger, An-Ning Challenger
2012: Won Chinese Taipei F2 Futures
2011: Won Vancouver Challenger, R/up Lexington Challenger, SF Queens London
Matthew Ebden (AUS)
Age: 26 | Current world ranking: 123
Career high ranking: 61 (October 1, 2012)
2014: 2nd Rd Australian Open, US Open
2013: Won Nottingham Challenger, Melbourne Park Challenger, Yokohama Challenger, Toyota Challenger, R/up Napa Challenger, Tiburon Challenger
2011: SF Caloundra Challenger, Dallas Challenger, Cremona Challenger, QF Brisbane International
Bradley Klahn (USA)
Age: 24 | Current world ranking: 122
Career high ranking: 63 (March 17, 2014)
2014: Won Maui Challenger, West Lakes Challenger, QF Binghamton Challenger
2013: Won Costa Mesa Futures, Aptos Challenger, Yeongwol Challenger, R/Up Traralgon Challenger, Binghamton Challenger, Winnetka Challenger, Calabasas Futures, QF Maui Challenger
2012: QF Aptos Challenger, Sacramento Challenger, Tiburon Challenger, 2nd Rd US Open
Hiroki Moriya (JPN)
Age: 24 | Current singles ranking: 154
Career high singles ranking: 149 (August 4, 2014)
2014: Won Granby Challenger, R/up Burnie Challenger, Granby Challenger, SF West Lakes Challenger, Shenzen Challenger
2013: R/up Shanghai Challenger, SF Kyoto Challenger, Granby Challenger, Mildura Tennis International
2012: Won Australia Mildura Tennis International, Kofu Futures, R/up Toyota Challenger, Kaosiung Futures, SF Toowoomba Tennis International, Kyoto Challenger,
2011: Won Chinese Taipei Futures, R/up Kashiwa Futures, Sapporo Futures, Port Pirie Tennis International, SF Berri Tennis International, Kalgoorlie Tennis International
Luke Saville (AUS)
Age: 20 | Current singles ranking: 173
Career high singles ranking: 161 (August 18, 2014)
2014: Won Port Pirie Tennis International, Mildura Tennis International, Glen Iris Tennis International, R/up Happy Valley Tennis International, Toowoomba Tennis International, 2nd Round Wimbledon
2013: Won Sydney Tennis International, R/up Little Rock Futures, Bangkok Futures, SF Toowoomba Tennis International, Alice Springs Tennis International
2012: Won Australian Open Junior Championships, Bangkok Futures, Cairns Tennis International, R/up Wimbledon Junior Championships, Loy Yang Traralgon International, Latrobe City MSS Security Tennis International
2011: Won Wimbledon Junior Championships, R/up Australian Open Junior Championships, Loy Yang Traralgon International
Thanasi Kokkinakis (AUS)
Age: 18 | Current singles ranking: 158
Career high singles ranking: 158 (current)
2014: Won Saskatoon Futures, SF Heilbronn Challenger, Lexington Challenger
2013: R/up Australian Open Junior Championships, US Open Junior Championships
2012: SF Bendigo Tennis International, Westende Futures
Alex Bolt (AUS)
Age: 21 | Current singles ranking: 212
Career high singles ranking: 206
2014: Won Australia Melbourne Park International, An-Ning Challenger, R/up Glen Iris Tennis International, SF Port Pirie Tennis International, Napa Challenger, QF Australian Open Doubles, Burnie Challenger
2013: R/up Cairns Tennis International, SF Melbourne Park International, Mildura Tennis International, Sydney Tennis International, Chengdu Futures, Roemerburg Futures
2012: Won Happy Valley Tennis International, Hong Kong Futures, R/up Esperance Tennis International, Hong Kong Futures, SF Cairns Tennis International
THE FIELDS

Traralgon ATP Challenger 1

(27 Oct – 2 Nov)
Direct Acceptances 22
Wildcards 4
Qualifiers 4
Special exempts 2
Bolt, Alex AUS 212
Chen, Ti TPE 225
Ebden, Matthew AUS 123
Edmund, Kyle GBR 242
Garanganga, Takanyi ZIM 325
Huang, Liang-Chi TPE 295
Jenkins, Jarmere USA 291
Jung, Jason USA 313
Klahn, Bradley USA 122
Klein, Brydan GBR 253
Kokkinakis, Thanasi AUS 158
Mitchell, Benjamin AUS 264
Moriya, Hiroki JPN 154
Niki, Takuto JPN 327
Reid, Matt AUS 228
Saville, Luke AUS 173
Smith, John-Patrick AUS 232
Soeda, Go JPN 112
Thompson, Jordan AUS 270
Venus, Michael NZL 353
Wu, Di CHN 231
Yang, Tsung-Hua TPE 238
Traralgon ATP Challenger 2
(1-9 November)
IN
Jones, Greg AUS 919
Millman, John AUS 287
Ward, James GBR 111
OUT
Niki, Takuto JPN 327
Venus, Michael NZL 353
Garanganga, Takanyi ZIM 325