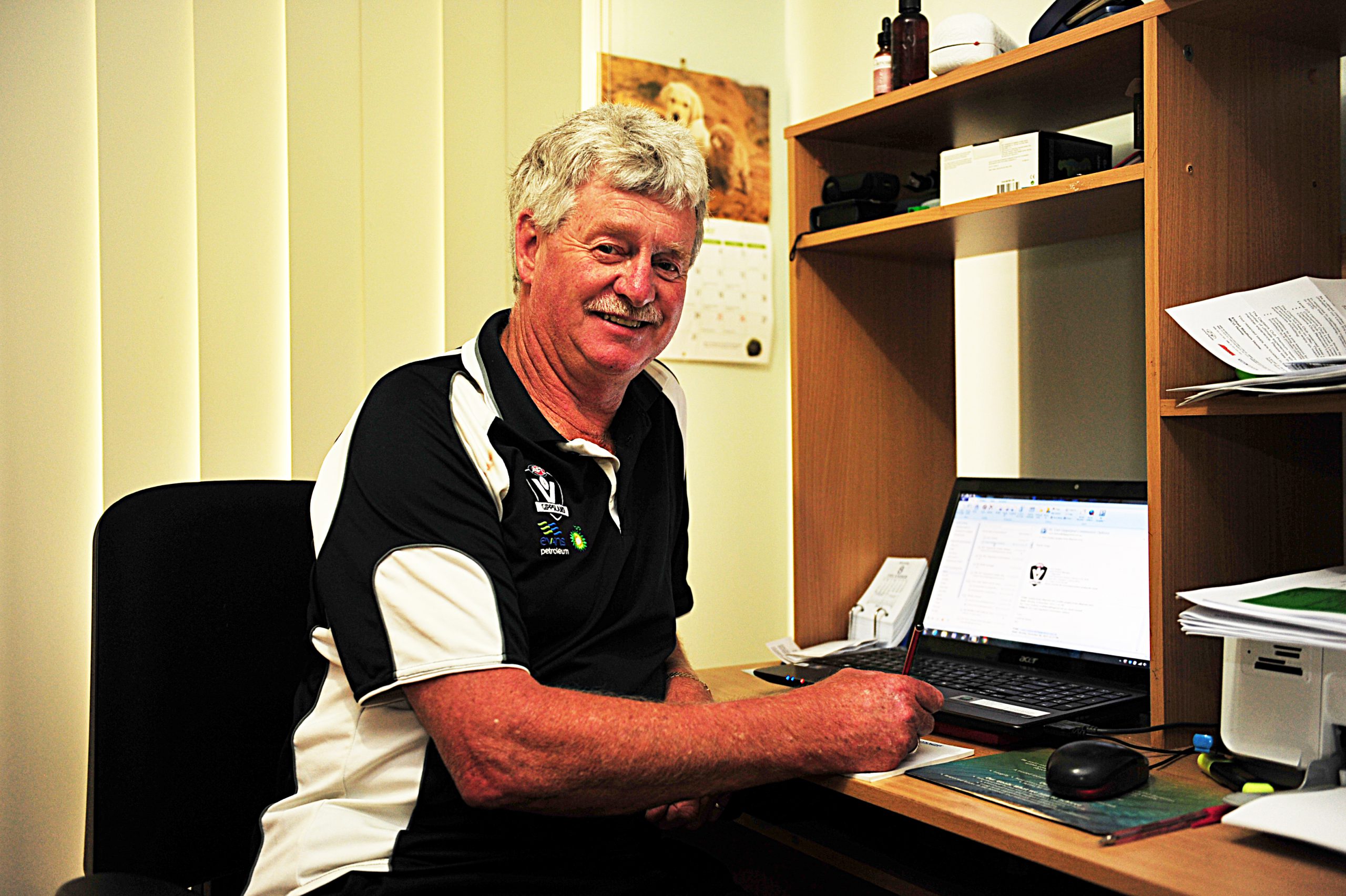 FOOTBALL
By SaMUEL dARROCH
Brian Quigley still gets around to a local game every weekend in the footy season.
The 10-year veteran at both Yinnar and Traralgon football clubs has been involved in Gippsland football his entire life – as a player, volunteer, delegate, club and league president, coach and more.
Now retired, the recently appointed chair of AFL Gippsland – replacing Angus Hume – is ready to take the game in Gippsland to the next level.
Quigley is an advocate for locals taking ownership of the game, and now embodies it.
"They've got a hold on it, an interest in it and you have a personal want to see it done as well as it can be, so you have ownership of it, locally," Quigley said.
"I see all levels of football from the best to the worst, I always go into the rooms before the games, I listen to the coaches; I've seen some very good coaches and some fairly average ones. I just enjoy being involved at the grassroots level and you see a lot more plusses than negatives."
The AFL Gippsland Commission was established in late 2012, one of many regional governance bodies created in accordance with recommendations of the Peter Jackson review into country football.
In two years of operation, the commission has taken the bull by the horns under manager Travis Switzer as the first full time body working toward the betterment of Gippsland football.
The commission has established a central point of professionalism in Morwell at its Regional Administration Centre, incorporating a range of leagues and associations, which will soon welcome the Gippsland Umpires Association into the fold.
In future Quigley can see all leagues and umpires groups operating under the AFL Gippsland umbrella, including the likes of Mid Gippsland and Ellinbank.
While most major stakeholders are fully on board, Quigley said many average punters were still uncertain of the commission's role.
"They think we're another level of AFL brought in with Gippsland Power," he said.
"Gippsland Power looks after the elite five per cent of our juniors, we're basically responsible for the other 95 per cent of participants in Gippsland.
"First of all we've got professional people on the ground working full-time for Gippsland football, right from the bottom up… having those people on the ground just picking up so many issues that have never been picked up before, I just think is going to help football hugely."
High on the agenda for Quigley's tenure is empowering football clubs to help themselves.
Shocked to learn about the lack of budget planning at some clubs, and the fact that several had none at all, AFL Gippsland will push to upskill community club professionalism.
Long term-sustainability is another key, and ensuring clubs develop "some concrete plan for their future so that every time they change administrations they don't start from scratch again".
The commission will also work toward accommodating huge growth markets in south and particularly west Gippsland.
"We've got a problem in some parts of Gippsland where the western end is expanding rapidly and… the towns in the east aren't growing nearly as quick so we're getting a big imbalance in our leagues from east to west, not so much the major leagues but the minor leagues," Quigley said.
"It's really about trying to get as many clubs on the park as we can in a competition that they're comfortable in and they've got a chance at success."
Part of the vision for club viability is normalising the junior age structure across the board, something currently under major review.
Quigley said discrepancies between junior age divisions between competitions caused issues with player retention and undermined cohesion with senior leagues.
He would also like to see a streamlined approach with clear progression from all age tiers, which would ideally see the senior football club in a town down through the schools, Auskick and junior footy to have a clear communication system and pathway.
"So there is continuity and communication for our kids right from the start," Quigley said.
Another challenge with rapid expansion in country areas surrounding Melbourne is ensuring adequate facilities are provided.
The new chair believes the Casey area will need another 30 grounds in the next five years, an issue which will gradually spread to Gippsland, where the commission hopes to act as an overarching lobby point for local government.
With a commission push to grow AFL 9s – small-sided junior games – Quigley said having age-appropriate ground sizes and facilities was also an important factor.
Though perhaps the biggest issue facing junior footy locally is the recommendations laid out in the 'This is our game, Junior Football Match Guide' which sparked controversy last year.
The recommendations for under 10 juniors were met with reluctance, particularly in Traralgon, due largely to the removal of scoring and tackling.
However, Quigley sees merit in the scheme, which has been successful in Bairnsdale, as it also rotates players through sections of the ground to ensure everyone is involved.
"It's probably fear of the unknown. Where it has happened, and it's happening all over Australia, the results have been brilliant. It's improved parent participation, it's improved kid numbers hugely," he said.
"(Currently) the top four or five kids get 30 kicks and the bottom 20 are lucky to get a kick between them, so the idea is kids will get a chance in all parts of the ground."
Another massive hurdle for country football will come in the form of a new state-wide salary cap and player points system set for trials across Victoria this year.
Addressed by an AFL Victoria working party after a majority of country football clubs expressed concern over unsustainable rates of player payments, the new salary cap is expected to be introduced as early as 2016/17.
Previous salary caps have failed, largely due to their difficulty to police, and Quigley is acutely aware of the challenge it can pose to administrators.
"Salary caps are awfully hard on their own in the bush. There's so many ways around them and being a club administrator any of us can come up with ways to beat a salary cap," he said.
Key to its success will be heavy penalties for those who breach regulation, "but you've got to have something concrete to hit them with".
Quigley would like to see registration restrictions addressed and finalised sooner, stop people registering with multiple clubs prior to season start and support a state-wide push to ban signing on fees.
Happy to take the hard line when necessary, Quigley's style is all about "where possible, consensus governments where we work together and use a bit of common sense".
"I'm big on the fact it's a team game and working with people rather than against people," he said.
"We've had a couple of leagues in Gippsland where they punish their clubs for not following things, I can't have a bar of that, you work with people to come to common ground."
For the time being, Quigley plans to consolidate the many agendas the commission has created across the region.
'Steady as she goes' is the mantra.
At the end of the tunnel, he believes things will be brighter for the commission's presence.
"I'm just excited about the potential for what's now happening. It will bring us from the previous century to the current century in a whole lot of ways," Quigley said.