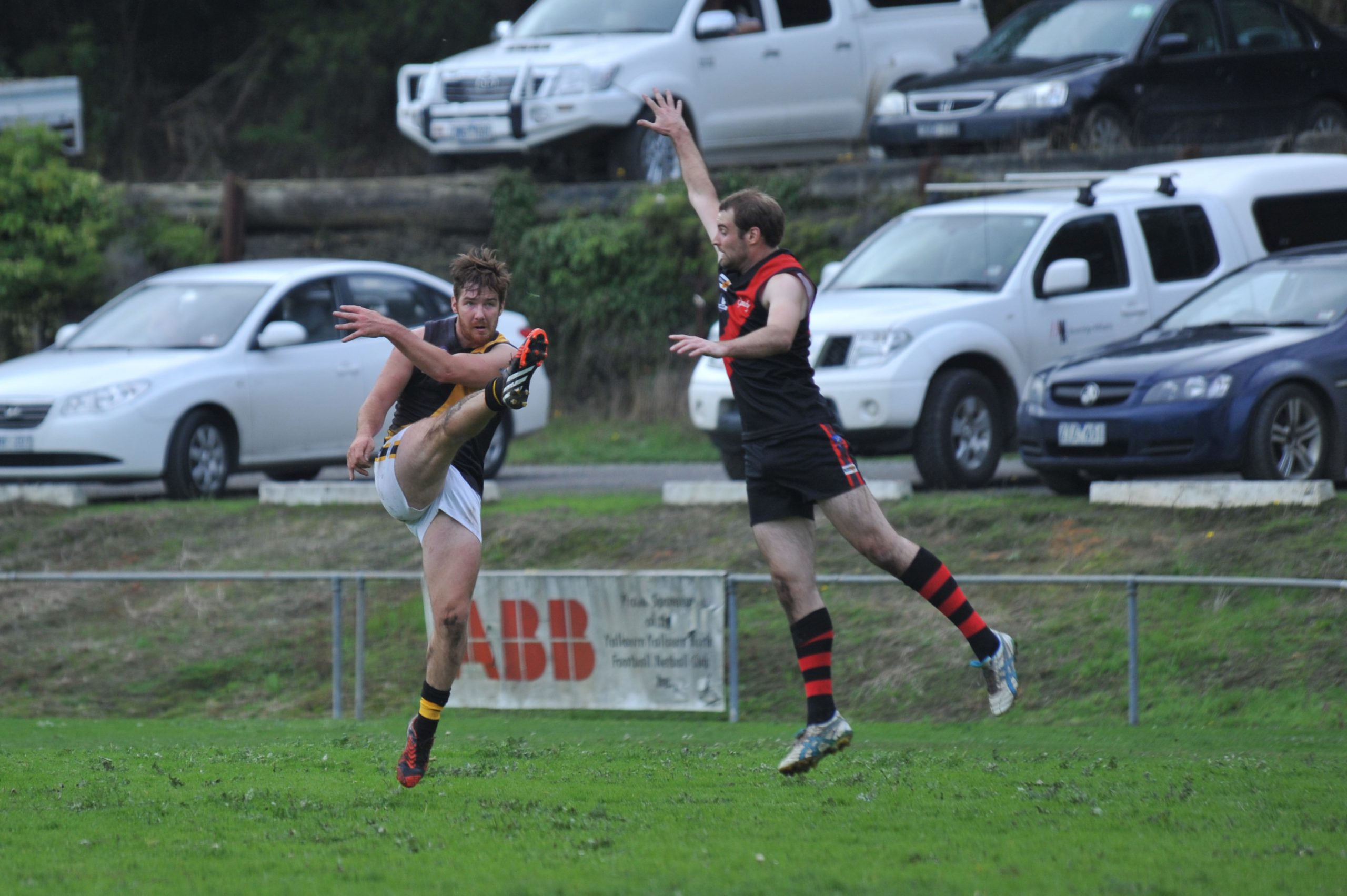 YALLOURN-Yallourn North continued to raise the bar on Saturday with a convincing 59 point victory over reigning premier Mirboo North.

Adam Bailey's side has now won three matches out of four to hold third spot on the ladder.
It marks the first time since July 2010 that the Bombers have lowered Mirboo North's colours.
The wooden-spooners of 2013 and 2014 have now won more games in 2015 than the combined efforts of the previous two years.
It was a tough battle for three quarters as both teams went in hard, with YYN better on the scoreboard.
Early contests between Bomber Tim Phillips and Jacob Blair were competitive with both trying to outdo the other, however Phillips won the battle finishing with six goals.
YYN led at each break but inaccuracy early kept Mirboo North within striking distance.
The fearsome looking Luke Norder was a powerhouse in the ruck for YYN, giving his rovers an armchair ride.
By half-time there was only 17 points the difference in a low scoring effort.
YYN really pulled away from the champions in the last term, kicking 8.1 (49) to 3.3 (21).
Campbell MacInnes was a tower of strength, Tyler Brown was ever busy and Todd Dobson put in his usual sterling effort.
Tim Traill finished with three goals for the Tigers and Jonathon Burge two, while their best were Kris Berchtold, Damien Turner and Josh Taylor.
YYN eventually ran out winners 17.14 (116) to 8.9 (57).
The joy extended to the reserve grade for the Bombers, where they kicked their second biggest score of all time against Mirboo North, 24.10 (154) to 1.6 (12) to record their first win for the season.
Trafalgar v Morwell East
TRAFALGAR eventually pulled away from Morwell East to win by 32-points in a close encounter at Ronald Reserve.
There was very little difference between the two teams with the lead changing five times in the first half.
Following a sluggish start Morwell East gained a half-time lead after trailing by 14 points at quarter-time.
The Hawks popped through 5.6 (36) in the second to take a surprise lead of nine points to the main change.
It was hard going for both teams and midway through the third scores were level.
Dylan Farrell and Ash Payne were busy for Trafalgar while for the East there was none better than Jody Riordan, Adam Duncan and Shaun Barnes.
Trafalgar scored a behind on the siren to go to a one point lead at three-quarter-time.
Morwell East hit the front early in the last term with a Joe Whykes goal but the joy was shortlived as Trafalgar cranked up a gear and added a further 7.3 (45) to the East's 1.2 to score a 14.13 (97) to 9.11 (65) victory.
Leigh Stevens, Matt Robertson and Blake Slater were the destroyers with three goals each while Adam Duncan, Lucas Towns and Whykes all scored two for the East.
Thorpdale v Yarragon
THORPDALE won its second match on the trot while Yarragon was relegated to the lower end of the ladder alongside Hill End without a victory to date.
Thorpdale led at half-time with nothing between the two sides, and it was a battle for survival between two determined outfits.
Thorpdale led by 13 points at the first break, which was whittled back to six at half-time before Yarragon put its nose in front by one point at the final change.
The last quarter was equally gritty as the Blues edged out Yarragon by seven points 11.12 (78) to 10.11 (71).
Consistent forwards Ilan Osman (4) of Thorpdale and Troy Lehman (6) for Yarragon kept the scoreboard ticking over.
For Thorpdale, Brendan Santurini, Jack Yelland and Adam Tagliaferro were best, while Yarragon had good players in David Bates, Stewart Edwards, James Harvey and Shannan Little.
Newborough v Boolarra
NEWBOROUGH withstood an almighty battle against Boolarra to win by 33 points, but received a fright from a determined Demons side.
It was not until the last term that Newborough was able to pull away from the Dees, who held a six point advantage at three-quarter-time.
Again inaccuracy could have been Newborough's downfall; at half-time the Dogs led by seven points but 4.9 (33) was a poor reward for their efforts.
Boolarra fought back in the third term to take a six point lead to set the scene for a torrid last quarter.
Newborough had to make changes and Mitchell Grubb proved what a versatile player he is. Switching from defence to attack, he led the last quarter revival with two goals and many assists as the Dogs first levelled scores, then pulled out all stops to kick seven unanswered majors.
The end result appeared a comfortable 13.15 (93) to 9.6 (60).
Adam Kennedy was strong with three goals, while the others were shared by nine players.
Ken Towt was the best for Boolarra with four.
Yinnar v Hill End
YINNAR won its match against Hill End in the first half, as the unbeaten Magpies soared to a 136 point win.
The Pies put on an 8.3 (51) clinic in the first quarter followed by a nine-goal second term to finish with 17.5 (107) to 1.3 (9) at half-time.
They slowed down in the second half but still ran out comfortable winners, 25.15 (165) to 4.5 (29).
Tim Aitken finished with eight goals and Aidan Quigley five in a frenzy.
Jarrod Ruan, Aitken and Quigley were best while for Hill End it was a picket fence with four goal kickers.
The better players on the losing side were John Warren, Justin Rea, Richard Horton and Mugsy Mooka.
Hill End still joins Yarragon on the bottom of the table without a win.