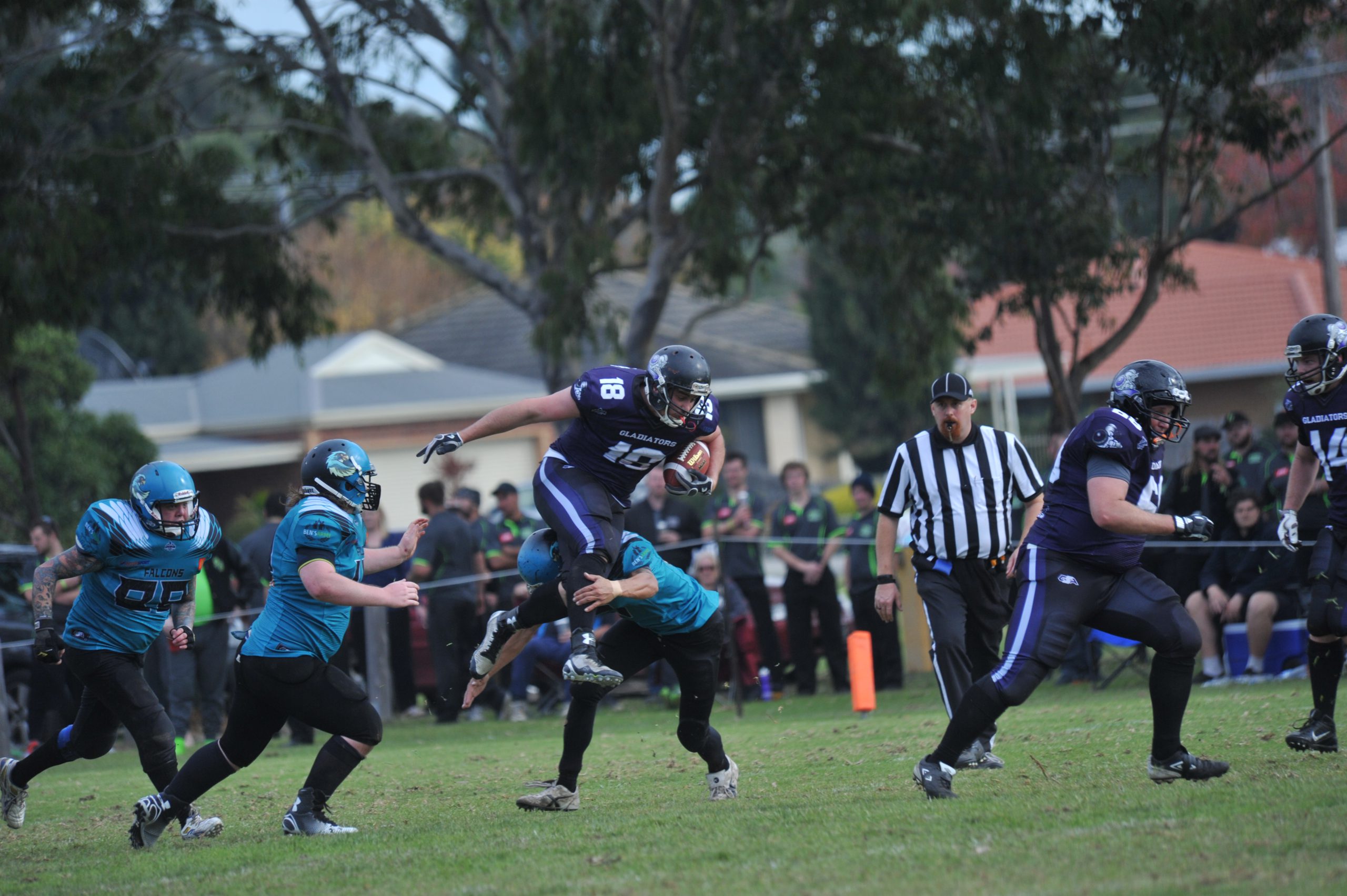 AN almost entirely new Gippsland Gladiators playing roster showed class worthy of their more practiced predecessors to post a 26-6 victory over Ballarat in the Gridiron Victoria division two season opener at Maryvale Reserve on Saturday.

The 2014 grand final replay saw a very different premiership side take the field, with three-quarters of the Gladiators list new to American football, but the result was the same at the end of play.
Gladiators coach Don Veale said four touchdowns and a two-point conversion was an outstanding return for a rookie-heavy side, which did not concede in the second half.
"Really happy with the performance of the guys on the weekend, I thought the defence did a great job and the offence was really encouraging," he said.
"We've still got a long way to go being our first game with so many rookies in the side… (but) it was a fantastic effort from the boys, great confidence for them."
The reigning premier drew first blood with the opening touchdown of the game, but missed the extra point conversion to take a 6-0 lead.
A nasty injury in the Gladiator ranks broke the home team's concentration, allowing Ballarat to level the ledger 6-6 with a 30-yard running touchdown on the following play ahead of half-time.
After the changeover the home side relentlessly exploited a chink in Ballarat's defence to post three unanswered touchdowns and a two-point conversion to win by 20 points.
"We saw a weakness on their defence and took advantage of it," Veale said.
"We found their run defence was very poor so we just ran, ran, ran for the rest of the game."
In addition to his best Superman impersonation, when a leap over the defensive line turned into a swan dive when his legs were clipped, Adrian Hector was a standout in attack and defence.
Rookie quarterback Zane Moran found his feet in the playmaker role, calling most of the shots for the afternoon.
Veale said the more complex playbook of yesteryear had been shelved in favour of a more simplistic game plan for the largely fresh Gladiators side.
"We've had to go away from the more complicated game plan we had last year when we were running specifically a no-huddle offence, all the play calls on the offence were done at the line of scrimmage," he said.
"You need a lot more knowledge of the game in order to do that, so we're back to strictly the huddle, tell everyone the play and if anyone has queries about what they have to do they can quickly ask in the huddle."
The Gladiators will return to Maryvale Reserve next fortnight to face the Northern Raiders, who went down in the first match of the Morwell double header 24-18, following a bye this weekend.