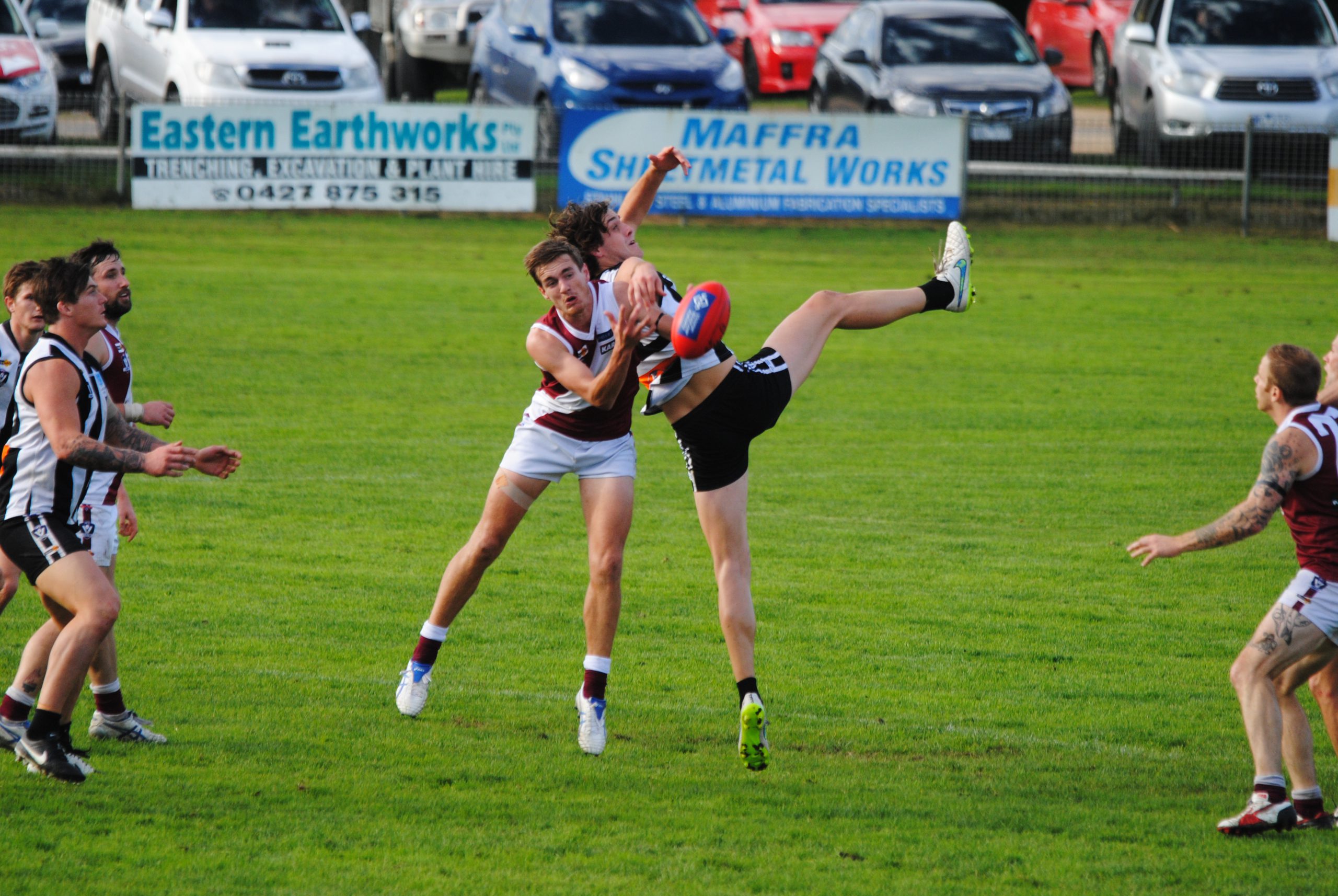 FOOTBALL
GIPPSLAND LEAGUE
SITTING equal second on the ladder, the Gippsland League's surprise package Traralgon will be vying for its fourth straight win when it hosts Bairnsdale in round five of the competition on Saturday.
The Maroons claimed their biggest scalp last weekend and in doing so broke Sale's run of 29 straight wins at home.
Among the standout performers in recent weeks, Traralgon coach Mark Collison said his side must continue to improve each week.
"We have Bairnsdale this week, so if we can get the win there it sets us up," he said.
The four points will be at a premium ahead of a tough few weeks which will include encounters with Wonthaggi and Maffra.
In the home side's favour, Traralgon has not been a happy hunting ground for Bairnsdale.
The Redlegs have won there just eight times in 71 visits.
Drouin v Moe
FRESH from a confidence-boosting win over last year's grand finalists Wonthaggi, Moe will travel to Drouin to take on the Hawks.
Despite a strong start to the season, the much-improved Drouin has lost its past two, conceding points to Traralgon and Maffra.
The Lions on the other hand held on to beat the Power by six points after a hard fought contest.
"The win over Wonthaggi was a really good confidence booster for us. We know now we can match it with the top sides," Moe coach Adrian Burgiel said.
"They are in a similar position to us, it will be a 50/50 game… depends who turns up to play."
Burgiel conceded there were some sore bodies to come out of round four.
Outstanding in the midfield, James Blaser led the Lions in a best on ground performance, while Gippsland Power player Gavin Low has settled in well to his new role in the Lions backline.
Moe has won its past three clashes with Drouin, including a match in round seven last year, which saw the Lions win on Hawks territory for the first time since 2007.
Maffra v Morwell
SATURDAY'S match between the Eagles and the Tigers will go ahead at Maffra, despite some efforts to relocate the game to the Latrobe Valley.
Fresh from consecutive wins, Morwell coach Joel Soutar said his side was looking forward to the challenge.
"They are a good side, always tough to beat," Soutar said.
Soutar said he still had not decided who would get the job on last year's leading goal-kicker, Darren Sheen.
"There are a few options, but they have got a few goal kickers with (Daniel) Bedggood down there too," he said.
"We will just be concentrating on our structures and our ball use and doing our best to stop them getting the ball down the ground."
Sitting second on the ladder, the host team has dropped just the one game so far this year, losing to the ladder leader Leongatha in round three.
Morwell has had the upper hand over Maffra in recent years, winning six of its past seven clashes with the Eagles.
"It will be a big one. It will give us a good indication of where we are at," Soutar said.
Wonthaggi v Warragul
WONTHAGGI coach Rob Railton said his side would be taking nothing for granted when it hosts Warragul.
"Every team this year is capable on the day. The past couple of years there's been one or two teams where you'd be confident you are virtually a shoo-in. Not this year, you have to be on your game every week, for the full four quarters," Railton said.
It's no surprise Railton is taking a cautious approach; last time Warragul travelled to Wonthaggi in round 18 last year, the visitor produced a thrilling one point win.
Railton said the focus this week was on defence following the Power's surprise loss to Moe.
"Hopefully we can bounce back," he said.
Sale v Leongatha
UNBEATEN after four rounds, Leongatha will travel to Sale to take on the Magpies.
Sale's confidence suffered a blow last weekend when it conceded its first loss at home since 2011.
The record between these two clubs on Parrots turf has been a coin flip, with Sale leading 25-24 but at Sale it has been one-sided in the past decade.
Leongatha has won there just twice in 10 years, in 2009 and 2011.
Maffra v Morwell
(1960 – 2014)
All matches: Played 119 Maffra 50, Morwell 69
At Maffra: Played 58 Maffra 28, Morwell 30
Last 10 matches: Maffra 4, Morwell 6
Last win at Maffra: Maffra 2012, Morwell 2014
Last 5 years at Maffra: Maffra 3, Morwell 2
Last match: 2014 (Ma) Morwell 11.10 (76) d Maffra 10.10 (70)
Present winning sequence: Morwell 3
Highest scores: Maffra 33.27 (225) (2003), Morwell 32.24 (216) (1983)
Lowest scores: Maffra 1.2 (8) (1960), Morwell 3.2 (20) (2004)
Greatest winning margin: Maffra 198 (2003), Morwell 163 (1982)
Most goals (match): Maffra 9 A.Gieschen (2001), A.Burgiel (2003): Morwell 10 J.Featherston (1984)
Traralgon v Bairnsdale
(1914-34 (GFL), 1960-98, 2011 – 14)
All matches: Played 155 Traralgon 112, Bairnsdale 41, drawn 2
At Traralgon: Played 71 Traralgon 62, Bairnsdale 8, drawn 1
Last ten matches: Traralgon 8, Bairnsdale 1, drawn 1
Last win at Traralgon: Traralgon 2014, Bairnsdale 1983
Last match: 2014 (B) Traralgon 17.10 (112) d Bairnsdale 8.13 (61)
Present winning sequence: Traralgon 5
Highest scores: Traralgon 34.17 (221) (1998), Bairnsdale 20.19 (139) (1981)
Lowest scores: Traralgon 1.12 (18) (1919), Bairnsdale 0.2 (2) (1998)
Greatest winning margin: Traralgon 219 (1998), Bairnsdale 85 (1928)
Most goals (match): Traralgon 10 K.Templeton (1973), P.McCulloch (1993): Bairnsdale 8 S.McLaren (1988), J.Gibbs (2011)
Drouin v Moe
(CGFL 1909-11, 19-30, 33-40, LVFL 1960-64, 2005-14)
All matches: Played 68 Drouin 23, Moe 43, drawn 2
At Drouin: Played 33 Drouin 15, Moe 17, drawn 1
Last 10 matches: Drouin 6, Moe 3, drawn 1
Last win at Drouin: Drouin 2013, Moe 2014
Last 5 years at Drouin: Drouin 4, Moe 1
Last match: 2014 (M) Moe 15.22 (112) d Drouin 6.6 (42)
Present winning sequence: Moe 3
Highest scores: Drouin 27.13 (175) (2010), Moe 22.19 (151) (1929)
Lowest scores: Drouin 0.5 (5) (1920), Moe 1.3 (9) (1922)
Greatest winning margin: Drouin 135 (2010), Moe 114 (2005)
Most goals (match): Drouin 11 C.Dunne (2011): Moe 11 F.Robinson (1929)
Wonthaggi v Warragul
(1995 – 1999, 2010 – 2014)
All matches: Played 20 Wonthaggi 10, Warragul 10
At Wonthaggi: Played 10 Wonthaggi 6, Warragul 4
Last 10 matches: Wonthaggi 7, Warragul 3
Last win at Wonthaggi: Wonthaggi 2014, Warragul 2013
Last match: 2014 (Wa) Wonthaggi 14.14 (98) d Warragul 9.12 (66)
Present winning sequence: Wonthaggi 2
Highest scores: Wonthaggi 27.18 (180) (2014), Warragul 25.14 (164) (1997)
Lowest scores: Wonthaggi 4.6 (30) (2013), Warragul 2.1 (13) (2014)
Greatest winning margin: Wonthaggi 167 (2014), Warragul 91 (1997)
Most goals (match): Wonthaggi 7 R.Tack (1999): Warragul 7 M.Cumming (1997)
Sale v Leongatha
(1969 – 2014)
All matches: Played 106 Leongatha 50, Sale 54, drawn 2
At Leongatha: Played 49 Leongatha 24, Sale 25
Last 10 matches: Leongatha 2, Sale 8
Last win at Leongatha: Leongatha 2010, Sale 2014
Last 5 years at Leongatha: Leongatha 1, Sale 4
Last match: 2014 (L) Sale 14.13 (97) d Leongatha 5.10 (40)
Present winning sequence: Sale 6
Highest scores: Leongatha 24.24 (168) (1979), Sale 33.27 (225) (2006)
Lowest scores: Leongatha 0.10 (10) (2012), Sale 4.9 (33) (2004)
Greatest winning margin: Leongatha 110 (2001), Sale 185 (2006)
Most goals (match): Leongatha 9 G.Thorson (1988): Sale 11 C.Aurisch (2006)
Statistics provided by Paul Carter