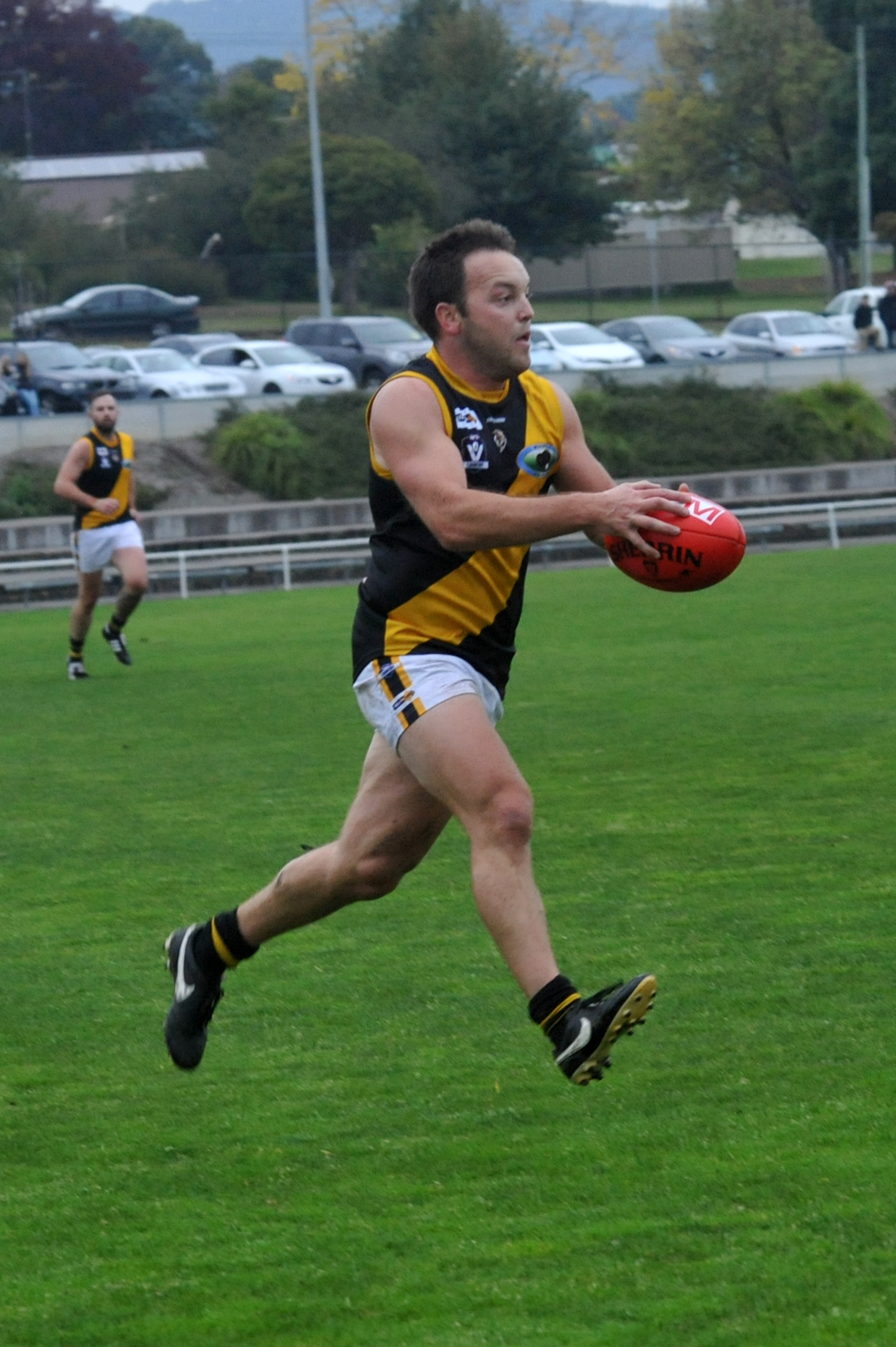 AFTER a tumultuous start to the Gippsland League season, pundits may have written off Morwell's chances of a triple crown.

Newly appointed coach Joel Soutar was not one of them.
The two-time premiership captain has started his coaching career in impressive fashion since the shock sacking of Dean Warren after round two, winning three in a row including a one-point thriller over Maffra on Saturday.
While Soutar said he had not thought about finals yet, he may be daring to dream of the grand prize.
Despite losing a wealth of experience in the off-season, including the likes of Adam Bailey, Campbell MacInnes, Tom Hutton and premiership coach Harmit Singh, Soutar is confident he has the side to make an impact on the competition.
"I reckon we've definitely got the group to contend again, it's just a matter of if we can get that consistent performance going and obviously that's happened the last couple of weeks," Soutar said.
"Our aim is to make finals for one but you've got to get in there and anything can happen if you make the top five.
"The first couple of weeks were a bit tough because obviously we weren't getting the results, but we've turned it around with three in a row and there's a bit of buzz around the group which is good."
Under Soutar's watch, the Tigers have soundly beaten Moe and Warragul. After edging out Maffra with the last kick of the game at the weekend, the group is up and about.
Despite his experience as a leader, Soutar said coaching brought a new set of challenges with mutual respect key to the transition.
"I'm trying to find the balance between coaching and playing," he said.
"Obviously it's getting the respect of the playing group first, which I think I've got, and just trying to put some things together we can build on.
"All the boys seem to have backed me in which is good and a positive step for me."
The coaching baptism took another twist at the weekend when the 26 year-old was confined to the sidelines for the first time in his short career through injury.
His late withdrawal from playing duties did however offer a new perspective.
"Definitely a different experience… I'd rather be out there," Soutar said.
"I could probably see a bit more which sort of helped… when you're playing… you see bits and pieces where you are and try to concentrate on your own game as well."
Soutar has had a substantial history with the Morwell Football Club and is passionate about the club's success overall.
He showed signs of being a promising, young footballer in his short junior career before embarking on his senior career at an early age.
The natural leader matured into the role of captaincy for the senior side and has been a success, winning best afield in the 2013 grand final as well as back-to-back premierships in 2013/2014.
Armed with some coaching experience prior to this season, having taken the under 18s side for two years, Soutar is hungry and determined for success.
The club's culture is looking promising with some young talent such as Riley Hogarth, Brad Brereton and Changkuoth Jiath arising to the senior level, and Soutar is backing them to do the job.
"I've coached the thirds so I know a lot of them, I've been able to go up to them and have a chat – they already know who I am so they feel they can approach me which is probably good for the younger group," he said.
"It's sort of no pressure on them which I thought in the first couple of weeks they probably had too much pressure on the young kids – just sort of went back to basics and told them to just go out and play footy pretty much."
The younger crowd is Soutar's primary focus, given the way his generation rose to prominence in the past two years.
"We've got some good young kids there… my main part as a coach is trying to keep the young group around," he said.
"We've had success in the last few years because we've kept them core kids coming through the 16s and 18s and kept them around all those years."
For the brass at Morwell, the decision to inject Soutar into the hot seat was an easy one.
President Wade Presley said the club backed the new senior coach 100 per cent and believed in his ability to adjust to the challenge of coaching.
"The decision was instantaneous, Joel was the best fit for the role and I have been more than impressed with his adaptability in terms of transitioning from the role of captain to captain/coach in such circumstances," Presley said.
Despite the success of the Tigers in recent weeks, there is no room for complacency.
They find themselves up against some quality opposition in the coming weeks and face a stern test to prove they're worthy of another title.
* Ben Ainsworth is a SEDA student on work placement with Latrobe Valley Express