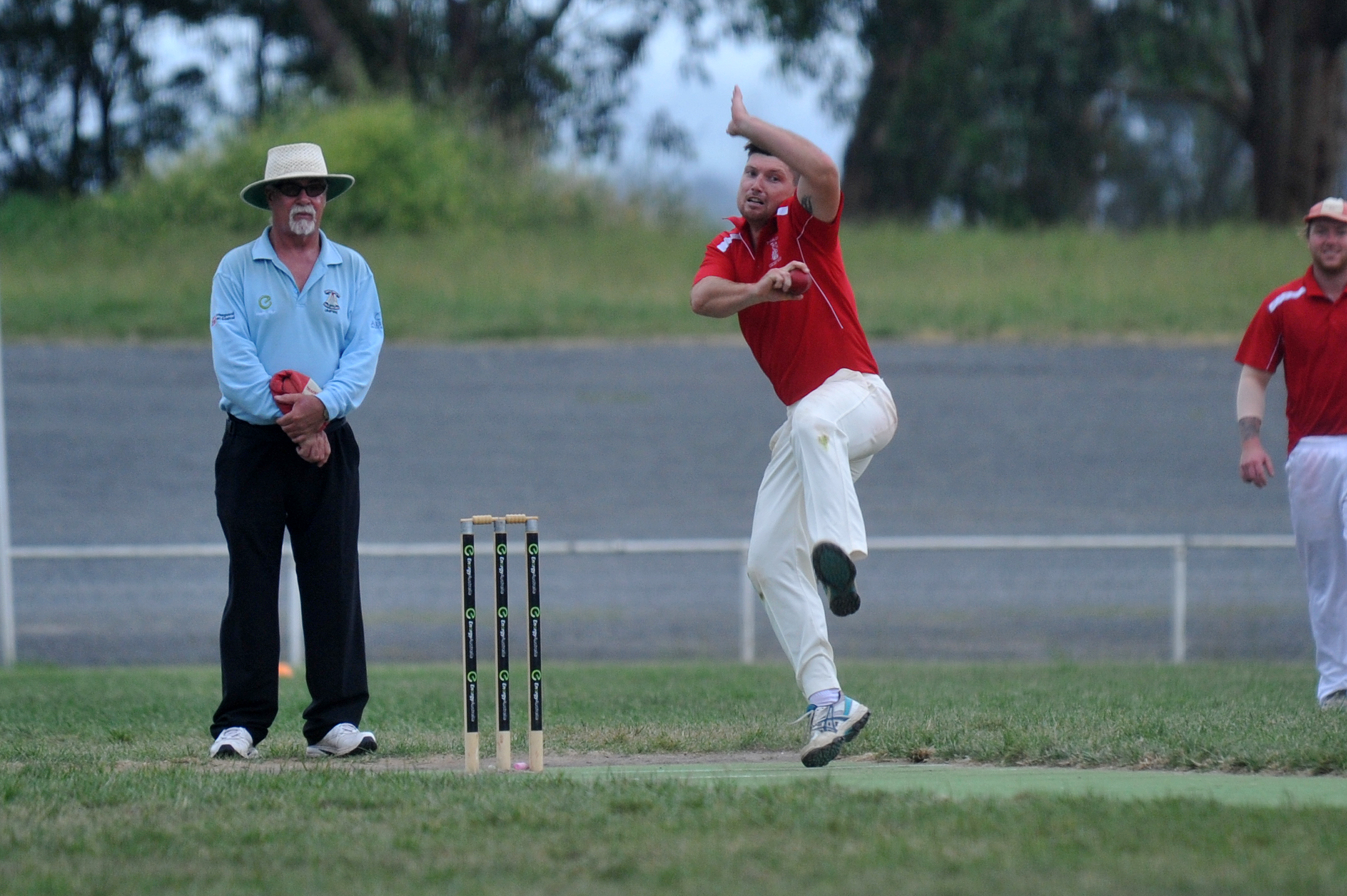 A RUTHLESS century from James Blaser decimated Moe as Trafalgar claimed a resounding 10-wicket victory over a depleted Lions outfit.

Chasing 154 Blaser hammered 126 from just 82 balls in tandem with 52 from Aiden George to pass the target without loss, revitalising the Ships' premiership defence with their first win of the season.
With Andrew Philip unavailable after the birth of his first child the night before, second grade skipper Moe Aaron Walshe won the toss and chose to bat first.
Ayden Kelly failed at the top of the order for the fourth time in as many rounds, and the Lions lost Jagbir Singh without adding to the total to be 2/14.
Youngsters Nathan Lee (42) and Joel Mitchell (32) began to repair the damage with a solidifying partnership and Lee continued alongside Walshe (38) after Mitchell's demise.
Trafalgar hit back with regular breakthroughs as Kane O'Connell and Ryan Sim, the latter on his first-team debut, got starts before the reintroduction of Todd Mann (4/31) blew the tail away.
Moe's depth issues resulted in the recall of veteran batsman Paul Kane, playing his first top level game in more than nine years, but he could only manage a single as the Lions were dismissed for 154.
Mann led the attack while David Bremner kept the pressure on with a tidy spell of 3/14.
Wth rain on the radar Trafalgar needed quick runs to ensure a result and Blaser answered the call.
His helter-skelter innings included eight fours and three sixes.
Blaser and George were particularly savage on Joel Mitchell (two overs, 0/23), Aaron Walshe (three overs, 0/28), Kane O'Connell (two overs, 0/20) and Lachlan Francis (two overs, 0/27).
The openers wrapped up the points within 20 overs before teeing off, rain finally ending proceedings with the Ships at 0/185.
JEERALANG-Boolarra welcomed the steady stream of rain that enveloped the Boolarra Recreation Reserve at 1.04 pm, given their precarious position at 6/41 from 23 overs.
Jamie Brierley started the rot when he had Craig Blackberry caught behind by Benn Zomer, his first A grade dismissal.
Brierley then nailed Corey Degenhardt first ball to leave the Panthers 2/1.
Luke Heath and Peter Gilpin managed to see off Brierley and Chris Johnson, the latter going wicketless for the Sharks for just the second time, before captain Brendan Evans brought himself on to devastating effect.
The Sharks skipper had Gilpin caught behind before removing Heath on 13 which would turn out to be the home side's top score.
Evans then picked up his opposite number, Panthers captain Stan Urbanic, for seven to have figures of 3/8.
Tyron Gamage had been operating at the other end, eventually clean bowling Dermott Leys to finish with remarkable figures of five overs, five maidens, 1/0 as the heavens opened and put paid to any ambition Latrobe had of squeezing anything out of the match.
THE battle between first and second turned into a fizzer as only 21 overs of play were possible. Yallourn North won the toss and batted first, with Josh Keyhoe (42) playing his first match of the season after returning from holidays and looked to fit right in, replacing makeshift opener Glenn Sheekey at the top of the order.
Keyhoe and Aidan Vesty added 66 before Steve Rogers had the latter judged LBW, and straight after had the former caught by Rob Phoenix.
Callum Polo and Pat Spiteri negotiated a few more overs but eventually play was called off for the day with inclement weather showing no signs of clearing up, Yallourn North closed at 2/69.
Rogers (2/25) was the pick of the bowlers for the home side.
MORWELL was all over Jeeralang-Boolarra as Brent Reside (3/3), Gavin Bailey (3/19) and Lachlan Day (2/9) destroyed the visitors' batting lineup.
Dale Abbott top-scored with 18 as his side was bundled out for a miserable total of 51 in just 24.1 overs.
Morwell then made short work of the target, with Bailey (21), Sam Mooney (20*) and Kris Fortuin (22*) chasing the runs in 11 overs, ensuring the entire match lasted less than 35 overs.
Matthew McGrath picked up 2/12 to salvage some pride.
RAWSON squeezed out a result against St Vincents as rain loomed large across the CGCA.
The visitors' decision to bat first looked a tactical blunder as they were rolled for 92 by Ben Rotheram, who took three wickets, and Robert Fiddelaars, who snagged two.
Andrew Harris (27) and Steve Tobin (23) were the only bats to get starts.
Alex Sword (61*) made easy work of the chase, assisted by Fiddelaars (26*) as the Kookaburras closed at 1/96.
Brett Dowdell was the wicket taker for the Saints, finishing with 1/22.
MOE hosted Mirboo North and had the visitors bowl 33 overs before rain ended the match.
Chris DeVent (20) and Michael Ryan (19) were the only significant scores for the hosts as the closed at 3/110, while the wicket takers for Mirboo North were Andrew Soplakow, Jacob Blair and Brandon Bradshaw.
The Bulldogs were fortunate to split the points with the Blues; batting first they were in deep trouble at 5/49 before the rain set in.
Royce Colgrave was the only bat to get a start with 16 as the rest struggled against Heath Ferguson (2/4) and journeyman Luke Whitney (2/15).
THE experienced Sharks had the young Colts in a vulnerable position at 5/67 when weather interfered.
Steven Hanning (10*) and Hayden Kimpton (16*) were beginning to repair some of the damage caused by Glen Steele (2/8), Mitch Cowell (1/5) and Nathan Nikodemski (1/16), including the dismissals of Jack Aitken and Gerard Hayes without scoring.
NINE-man Moe overcame 10-man Newborough as both sides struggled with depth to get a side up.
It became the only third grade match played to conclusion as the Bulldogs were rolled for 107 by Frank Manduci (4/17) and Craig Veenman (3/30).
It could have been a lot worse for the visitors without David Reynolds' brilliant unbeaten 42.
Moe then posted 5/120 in response in just 19 overs to beat the rain, the whole match taking exactly 45 overs.
Veenman (27), Manduci (25) and Andrew Young, playing against his old side for the first time since defecting from the Bulldogs, got scores to take Moe over the line.
Nick Waring bowled well for Newborough to take 2/7.
RAWSON batted first, with Justin Cook posting a supreme unbeaten 104 in the Kookaburra's total of 4/273 in 45 overs, however as weather ended play at the innings break the decision to bat first may have cost the visitors a chance at victory.
Chad Williamson proved he is a class above this level with 82 while only Jesse Hebbard, Rob Harrington and Wayne Arnold could snag wickets.
MIRBOO North won the toss and sent the hosts in first, with an eye on chasing a low total to beat the rain.
The first part of the plan worked perfectly, with Shane Gniel's 29* not enough to save the home side being bowled out for 101 thanks to Todd Alexander (4/17), Rohan Hughes (3/35) and David Calder (3/14).
However, rain put an end to any chance of a result.
LATROBE was sent in by a Willow Grove side eyeing off revenge in a grand final rematch.
Jamie Coltman (22), Luke Van Dyke (19) and Nic Brewer (28) played well for the hosts while Nathan Perkins picked up three wickets and Ben Noy two to restrict the Sharks to 142 before rain ended play at the innings break.