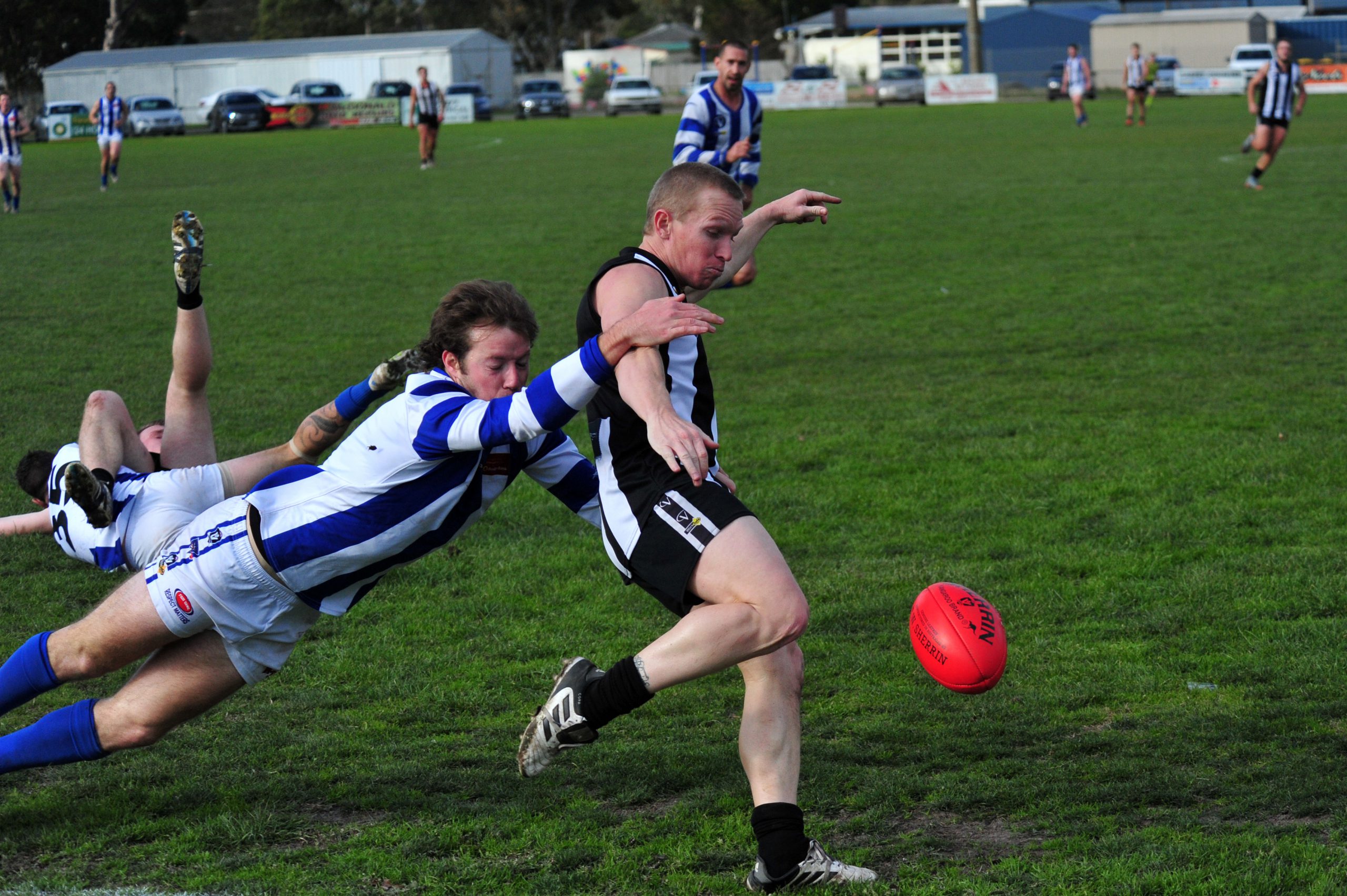 FOOTBALL
NORTH GIPPSLAND
There was no home ground advantage for Woodside when it hosted Sale City in the second week of the split round at the weekend, falling to an unconquerable Bulldogs outfit 16.8 (104) to 7.7 (49).
Ryan Foat's five-goal haul was the major positive for Woodside in its 55-point loss, while Bradley Smith and Joshua Kennedy were serviceable.
An even-spread of goal kickers for City proved its biggest weapon in the nine-goal win.
City coach David Piasente said he was "very happy" with the outcome and applauded Woodside for its showing.
"They (Woodisde) were really dominant around stoppages early on," Piasente said.
"I thought it was a really good response from us in the second half to clearly win through the midfield."
Bohdi Walker bagged five for City, Thomas Wilson scored four and Jacob Schuback and Stuart Buckley came away with two each.
The win was a particularly pleasing one for Piasente given he made a risky decision to rest both Bulldogs ruckmen ahead of the game.
"Their rucks really dominated in the first half but after half-time we really dominated," he said.
As the home and away season draws to a close, Piasente said City were looking towards a finals berth.
"All you want is 100 per cent from your players every game and it feels like we're really building on what we want to achieve as a group," the Bulldogs mentor said.
Currently in third position, Piasente said City was "wary" of Yarram and Heyfield.
"It feels like they are really going to be the ones to beat," he said.
Ahead of this weekend's game against Rosedale, Piasente said he would toy with the idea of resting some sore players.
"We got through unscathed but we do have some sore bodies at the moment, so we may rest a couple," he said.
TTU v Cowwarr
Cowwarr managed to hold off TTU in the round 15 clash at Tyers Recreation Reserve on Saturday to win 14.8 (92) to 11.11 (77).
The Saints led at every change and seemed to have TTU's measure across the ground.
Luke Francis' three goals weren't enough for TTU to challenge the Saints, with the away side putting on a goal-kicking clinic of its own.
Bradley McBride was integral for Cowwarr up forward with a stunning display of seven goals.
Linden Brunt proved valuable, too, booting four goals to feature in the best-on-ground list alongside Brett Grieve.
TTU is in eighth with four wins and 10 losses.
Cowwarr is in sixth position on the North Gippsland ladder, a game shy of Woodside in fifth.
The Saints will look to this weekend's clash against Woodside off the back of its 55-point loss to Sale City while TTU will travel to Glengarry to face the seventh-placed Magpies in the inaugural Gippsland Pride Cup.
Yarram v Glengarry
Yarram solidified its stronghold at the top of the North Gippsland League ladder in round 14, holding off a valiant charge from Glengarry to emerge 11.21 (87) to 10.7 (67) winners.
The Demons could have put the game even further beyond Glengarry's reach, but repeated inaccuracy on goal kept their victory to 20 points.
Yarram had a staggering 32 scoring shots for just 11 goals, and coach Chris Pettit said the challenge from Glengarry came as no surprise.
"You can practice goal kicking as much as you like but it's generally not something we like to focus on," Pettit said.
"We weren't as accurate as we would have liked so that's obviously something we have to work on.
"They match up really well against us as we saw earlier on in the year when they beat us, so we knew they'd play well."
As the Demons march towards a finals berth in 2017, Pettit said his side would need to work on a number of things.
"As with every week we build and try to work on deficiencies and give ourselves the chance to work on things that aren't going so well," he said.
The ladder leaders travel to Gormandale this weekend to take on the Tigers.
Glengarry sits in seventh position on the North Gippsland table, two games shy of Cowwarr in sixth.
The Magpies take on TTU in the inaugural Pride Cup in round 15 this weekend while Yarram travels to Gormandale to take on the Tigers.