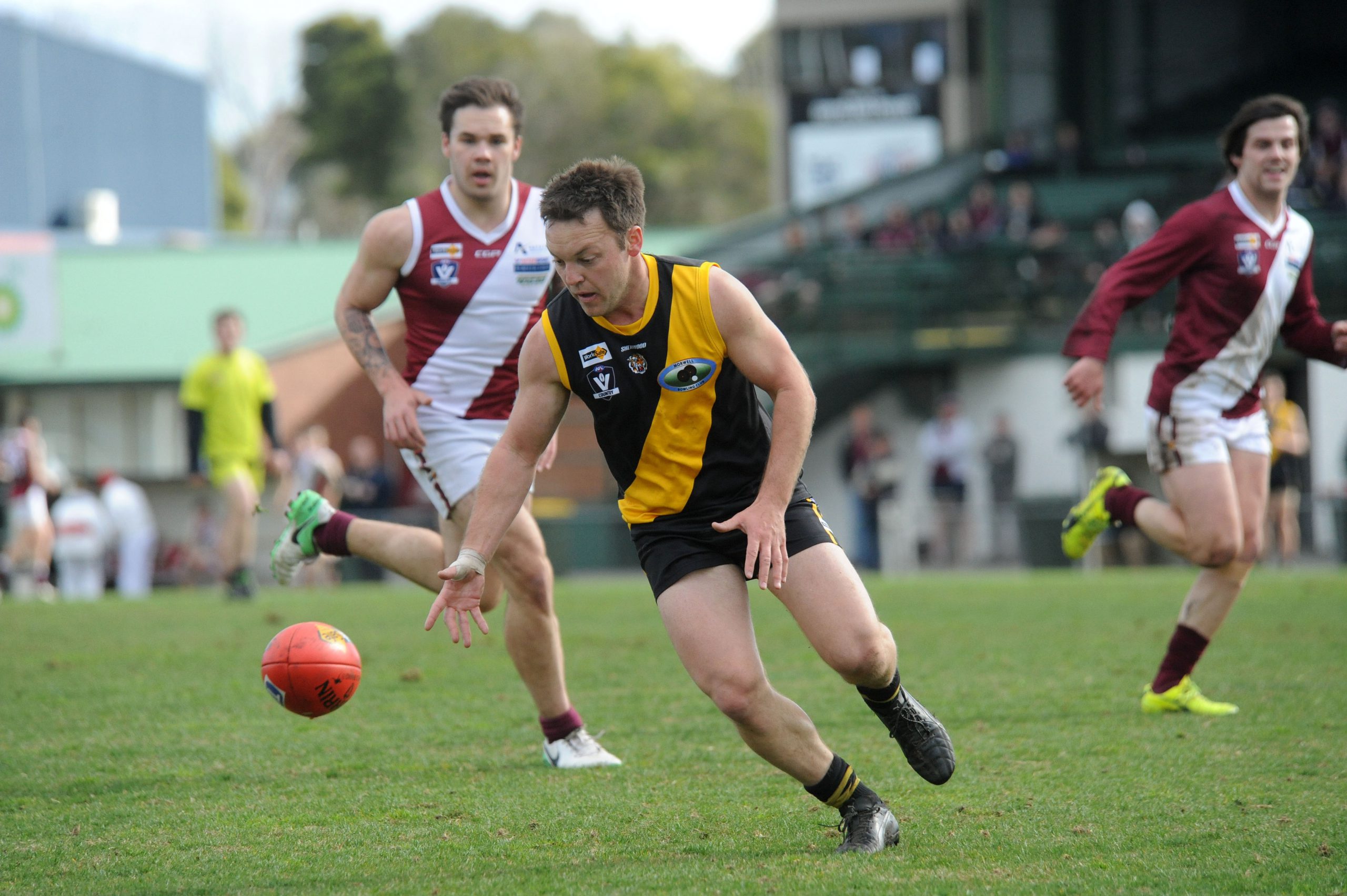 FOOTBALL

GIPPSLAND LEAGUE
Both Moe and Morwell have secured top five finishes but this weekend's fourth versus fifth clash will set the tone for the 2017 finals series.
Moe made light work of Wonthaggi in round 17, belting the Gulls by 61 points at Western Park.
Morwell also won big at the weekend, upsetting arch-rival Traralgon by 22 points. Last time the sides met in round nine a five-goal final term handed Moe the win 15.10 (100) to 12.14 (86).
Morwell coach Joel Soutar said he expected a fiery clash in the final home and away game of the season.
"Moe is a quality side and they're playing some great football and we might meet them in finals so this week will give us a good look at them," Soutar said.
Soutar also said the Tigers would use this weekend's game as a trial run for finals.
"It's about getting as many players as we can in form ahead of finals," he said.
"It should be an interesting game but we've just got to keep playing our way."
Soutar cited the round nine game against Moe as a learning curve for the Tigers.
"Last time we started really well and had a good first quarter but they got on top of us everywhere so we'll need to review the game," he said.
"I think definitely they were on top in the midfield but they've got quality forwards we need to shut down as well."
Traralgon v Warragul
Traralgon will need to secure a win over Warragul this weekend in round 18 action if it is to hold third spot on the Gippsland League ladder over Moe.
Warragul was no match for Traralgon when it played host in round nine, managing just six goals on the way to a 69-point loss.
Warragul came within 14 points of the Maroons at half time, but a single goal to Traralgon's 10 in the second half put the game well beyond reach.
Traralgon fell to arch-rival Morwell in round 17 by 22 points while the Gulls never looked like challenging Leongatha during a 60-point defeat.
Drouin v Bairnsdale
Drouin has a chance to clinch its first win of season 2017 this weekend when it hosts ninth-placed Bairnsdale in the last game of the season proper.
The Redlegs were indomitable when the sides last did battle in round nine,
piling on 22 goals to demolish the Hawks by 117 points.
Drouin was on the end of yet another belting by flag fancy Maffra in round 17, losing out by 75 points at the final siren.
Bairnsdale suffered a similar fate and was overrun by Sale to the tune of 70 points.
Drouin had a tough time quelling the Redlegs forwards in round nine with Damian Cupido bagging seven goals, Russell Cowan four and Nathan Dennison three.
Sale v Wonthaggi
Sale and Wonthaggi won't play finals in 2017 but this weekend's game will split the two as they sit in eighth and seventh, respectively, on six wins each for the season.
Last time the sides met in round nine, Wonthaggi was too strong at home for the Magpies, overcoming a slow start to steam home 38-point victors.
Dominic O'Connor and Jack Blair proved the difference for Wonthaggi in its round nine win over the Magpies with four and three goals, respectively.
Sale travelled well at the weekend and stacked on 20 goals to beat Bairnsdale by 70 points.
Wonthaggi hosted Moe in round 17 and never really challenged the Lions during the 61-point defeat.
Dominic O'Connor and Jack Blair proved the difference for Wonthaggi in its round nine win over the Magpies
Leongatha v Maffra
Leongatha and Maffra will face-off for a top spot finish this weekend when first and second do battle in the last home and away fixture for 2017.
Leongatha may hold top spot but it was outclassed by Maffra to the tune of 39 points when the sides last met in round nine.
Both secured big wins in round 17, with Maffra belting Drouin by 75 points and Leongatha overcoming Warragul by 60 points.
Kade Renooy and Daniel Bedggood were damaging for the Eagles in their round nine win with three goals apiece and are sure to draw attention from the Leongatha backs this weekend.