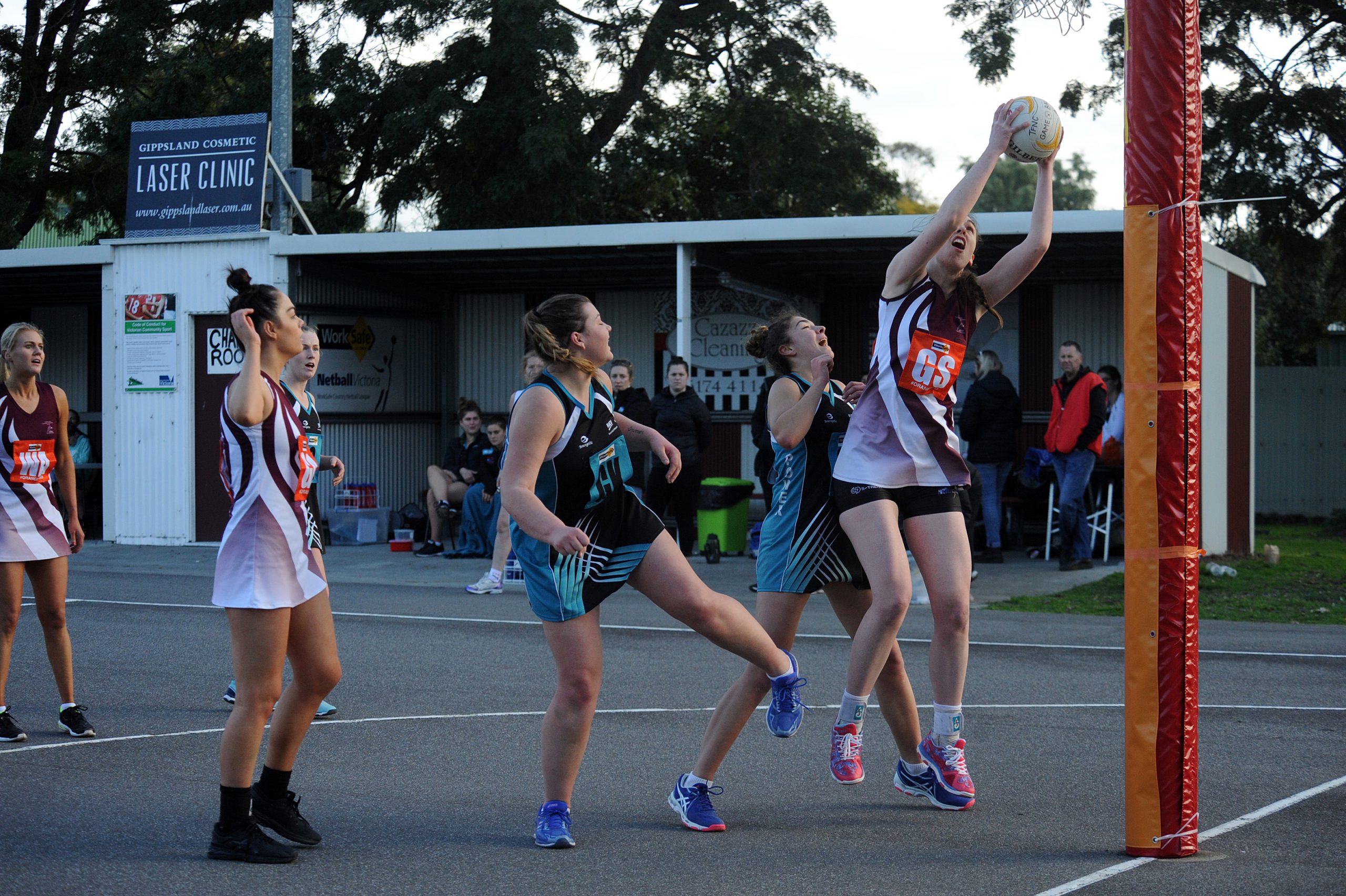 Kate Withers
NETBALL

GIPPSLAND LEAGUE

Second semi-final

A huge match-up is brewing in the second semi-final of the Gippsland League A grade netball competition with defending champions Traralgon taking on minor premiers Morwell on Saturday.

On offer for the winner is a spot in the 2018 grand final while the loser will stay alive and play off in the preliminary final.
Maroons coach Caitlan Ponton said she was "really happy" off the back off a big 21-goal win over Moe in the qualifying final on Saturday.
"We played out four quarters really well and had a few injuries to start off with but the girls stepped up and were awesome," Ponton said.
Mid-courter Bec Jennings went down with a knee injury early in the game and is unlikely to take the court this weekend against Morwell.
Taylin Gourley was in phenomenal form in goals for Traralgon and missed just three shots for the game according to Ponton.
The Tigers took their first season proper meeting with Traralgon in round nine, 42-39, but a bolstered Maroons side returned the favour just a fortnight ago to win by 11 goals.
Ahead of this weekend's clash with Morwell, Ponton said the semi-final would likely pit strength against strength.
"It will be good. Both times either team has had players missing and this will be the first time we've met with full teams," Ponton said.
"It'll be interesting and a good game, but as long as we play our game we should be right, but it's finals so you never know."
The second semi-final between Morwell and Traralgon will be played on Saturday at Traralgon Recreation Reserve from 4.30pm.
First semi-final

Drouin won a low-scoring thriller to earn their date with Moe in the second semi-final this weekend and will be looking to swoop on the Lions on the back of their loss to Traralgon at the weekend.
Coach Peter Moody said his side was "taught a lesson" by defending premiers Traralgon at the weekend, who overran them by 21 goals.
"They really showed us about intensity and what you have to bring to a finals game," Moody said.
"The girls thought we were prepared but you're never prepared until you're on the court, and they were way too good.
"They played fantastic all through pretty convincingly in just about every position."
Moody admitted the absence of shooter Bella Hodgson left a "massive hole" in the Lions goal circle but was happy his young side "fought it out" to the final whistle.
Moe will be back to full strength this weekend for their meeting with 2017 grand finalists Drouin, who they lost to by a single goal in a round-one thriller and fended off by 13 goals in the round 10 rematch.
"We're all set to turn it around this weekend," Moody said.
The first semi-final between Moe and Drouin will be played at Maffra Recreation Reserve on Sunday from 2.15pm.