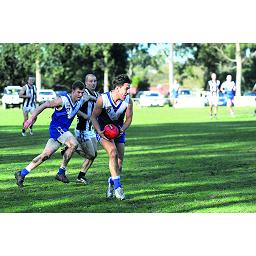 Kate Withers
FOOTBALL AND NETBALL
MID GIPPSLAND
A mass exodus from the Thorpdale Football Netball Club has left the Blues with depleted playing stocks and without a senior coach just two months out from the start of season 2019.

The departure of senior playing-coach Josh Collie and a number of other high profile players including several Melbourne-based recruits also means the Blues are unlikely to field a reserves side this season.
"At the moment we wouldn't have any more than somewhere around the mid-20s in senior players, but it's hard to gauge," club president Keith Pickering said.
"We've been recruiting Melbourne players for the past five years, and for some reason when [Josh Collie] left the others left.
"Once one starts jumping then everyone jumps ship and that's the problem at the moment."
Collie's brother Luke, 2018 leading goal-kicker Ed Greene and brother Hugh and assistant coach Brett Gatehouse have all left the club.
"Our seniors have played finals for the last three years, but the problem is that if recruits don't get success after about two years then they just go elsewhere," Pickering, who has been with the club for more than 40 years, said.
"We've still got a core of really reasonable players. They're a young group and a lot have been through the Mirboo North [junior] system and come back.
"Ideally we're looking for a playing-coach who's also got players to bring with them. Anyone with players is a bonus but I think this is a great opportunity for anyone who wants to have a go."
The Blues' A grade netball side, which finished runner-up in 2018, has just "two A-grade standard players" remaining on its roster, according to Pickering.
He admitted the club was "struggling" but said a failure for it to thrive would have broader ramifications for the township of Thorpdale.
"This is bigger than the club, it's [about] the town but the club is where everyone goes – if it's not there then what do people do?" he said.
"We've got nothing else much here and the football-netball team is the lifeblood of the town at the moment."
Pickering also held concerns for the future of the Mid Gippsland Football Netball League if Thorpdale was forced to withdraw teams from competition.
"We'd also like to keep the league going and if you lose another club, well that makes it easier for it amalgamate with others," he said.
MGFNL spokesman Rob Popplestone said the situation at Thorpdale "was of extreme concern" to the league but remained committed to ensuring the club survived.
"This club has built itself to be a finals contender and it's concerning it is now in such a tenuous position on the eve of the 2019 season," Popplestone said.
"The league will be doing everything possible to make sure Thorpdale is given every chance to be a competitive club in 2019."
Anyone interested in coaching or playing at the Thorpdale Football Netball Club is encouraged to phone president Keith Pickering on 0458 346 363 or secretary Robyn Savige on 0427 889 059.