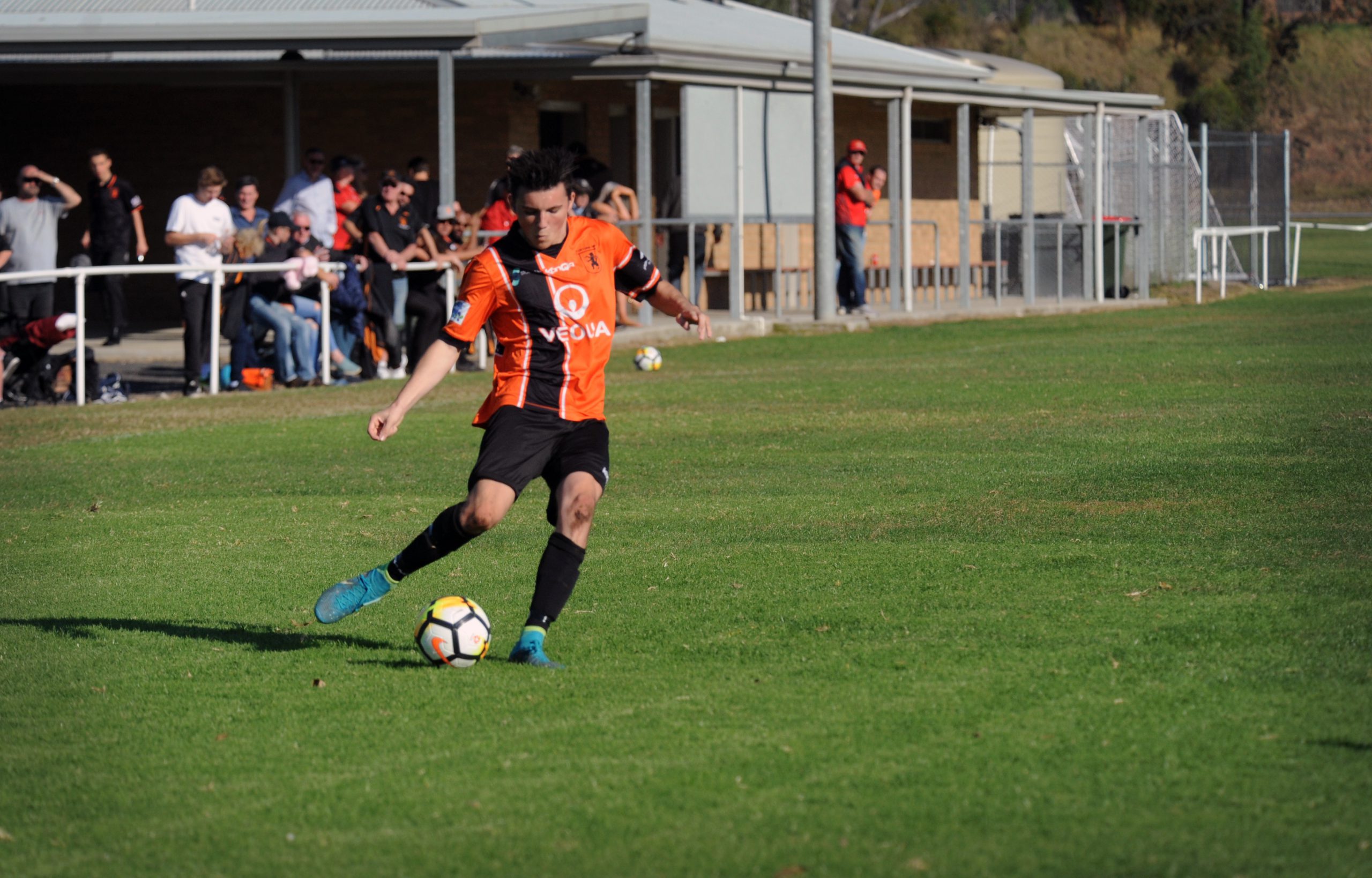 Laurie Williams
SOCCER

LVSL

Round four review

A goal at the death forced Fortuna to share the points against Moe in a fiery match, 2-2.

The Fortuna goal in extra time by Hayden Cook broke Moe's one-goal lead which they had held for 20 minutes.
In a game of catch-up Moe led twice only to let Fortuna back in to equalise on both occasions.
Moe were on the board at 19 minutes when Matt Shearing found the back of the net.
Fortuna finally broke through when Cook scored his first to force a 1-1 stalemate at the break.
Moe went ahead at 76 minutes when Andre Antonopoulos beat Nick Pridgeon on the goal line.
Tempers flared during the match and the referee dished out multiple yellow cards.
Fortuna scored the equaliser two minutes into extra time via Cook.
Traralgon City v Falcons

Traralgon City enjoyed a rare win over Falcons in a tight match, the Roosters securing second spot on the ladder with a 3-1 victory.
It was a while before both teams settled and Traralgon City, cheered on by their home crowd, cracked the Falcons' defence at 34 minutes when the agile DJ Matar lobbed the keeper.
Only two minutes later City stunned Falcons and had another on the board from Matar after a mix-up in defence.
After half-time the pressure was building and Falcons were eventually rewarded with a goal from Jamie Pistrin with 15 minutes to play.
Traralgon City kept possession, their defence tightened and they stopped Falcons from scoring before increasing their lead to 3-1 at 88 minutes when Nathi Khamchom scored.
Monash v Sale

Monash sealed a valuable victory over Sale, 2-1.
However, they received an early fright when the Swans got on board after five minutes of play when Callum Campbell shot one past keeper Enda Murphy.
Monash were rewarded when Shawn Lawrence wandered down from defence and bashed one into the net just before half-time to make it 1-1 at the break.
Monash eventually got the breakthrough with 15 minutes to go through Sam Pilcher to seal the win.
Olympians v Churchill

Olympians moved into third position after their good win over Churchill, 3-1.
They scored the opener at 28 minutes in when Jayden Steele popped one into the net.
Churchill, however, hit their stride to equalise right on half-time through former coach Bryce Ruthven.
Olympians owned the second half not letting Churchill into the game, the Traralgon side scoring twice through Alradi Ali at 63 minutes and then Jordi Vacca capped it off with a goal at 81 minutes.
Churchill were handicapped at 86 minutes when one of their players was red-carded.
Olympians achieved a 3-1 victory.
Newborough/Yallourn v Trafalgar

Trafalgar Victory had no answers to Newborough/Yallourn at the weekend, failing to score in a 0-4 loss.
The home side asserted their authority and scored at 51 minutes from leading goal-scorer Hayden Tanti, then at 60 and 75 minutes through Dylan Fairbrother with a brace.
Alex Van Vliet wrapped up the match with the final goal to give Newborough/Yallourn a clean sheet.
LVSL women

Traralgon City continued on their winning way with a huge 7-1 victory over Falcons.
Shanae Quilty led the way with a haul of four goals.
Three teams now share top place after Sale were held to a 0-0 draw by Monash.
Olympians broke the ice with a 1-0 win over Churchill and, in the other matches, Trafalgar rolled Newborough/Yallourn 2-1 and Fortuna were 3-1 winners over Moe.
The LVSL will resume in round six with an Anzac Day clash between Fortuna and Churchill.
All remaining round five matches will be played on Sunday, April 28.