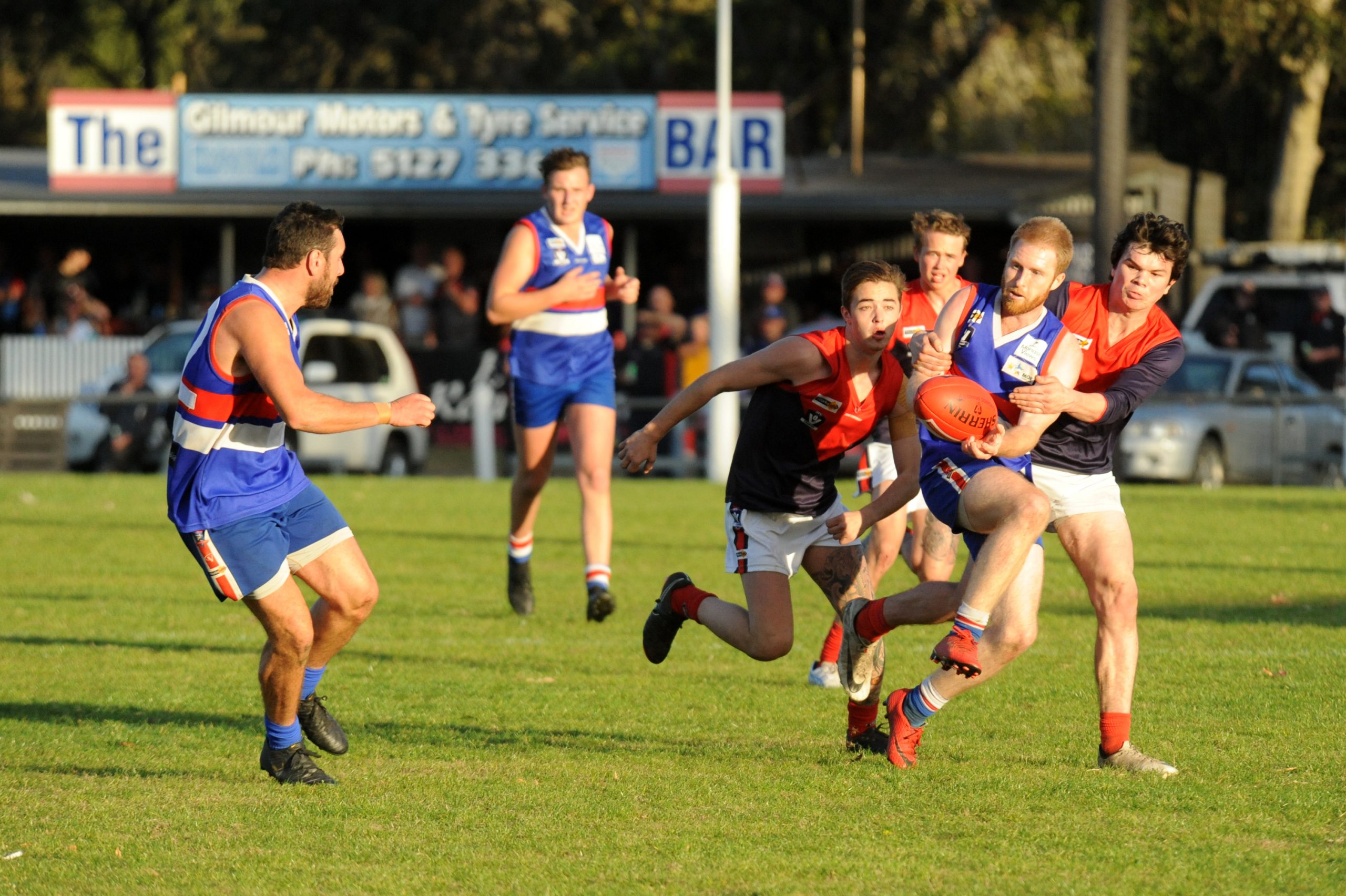 Football

Mid Gippsland
Trafalgar showed glimpses of their 2018 premiership form last week with the Bloods pushing the unbeaten Mirboo North to the very last minutes before going down by just four points.

That effort should be enough to buoy coach Clint Eisendel ahead of what looms as a defining match in its quest for back-to-back success.
Yallourn-Yallourn North have been workmanlike with a splash of brilliance in 2019. Unbeaten and still improving, the Bombers appear to have put together a squad that can win a match from anywhere and at any ground.
The top of the table side is well coached and their demolition of Morwell East last week is ample evidence of what they are capable of when they flick the switch to overdrive.
It was about this time last season when the Bombers ventured to Trafalgar to take on the unbeaten Bloods on their home turf and inflicted what turned out to be their only loss of the year.
The tables are now reversed with Yallourn the hunted. It would be a perfect time for Trafalgar to send a signal to the league that they should still be considered a contender.
In simple terms, a win puts Trafalgar back into contention at the half way mark of the season, a loss could be the final straw that sends them crashing back into the middle ground of the MGFL ladder where they will be surrounded by a pack of desperate clubs trying to secure a top five spot.
Trafalgar's structure was starting to build last week. It will, however, be patiently dismantled by the visitors if it gets its chance. The Bombers showcased another string to their bow last week when they chipped the ball around, retaining possession, cutting through the lines and both frustrating the Hawks and finding a way forward by slicing their way to a handful of forward options.
As good as the Bombers have been, there is still improvement to be made, most of it in front of goal, where their conversion has been less than average, but given the sheer numbers, they have always found a way to win.
This is a match between first and sixth, but will be played like it's between two of the top sides in the competition. A win by Yallourn-Yallourn North might be just enough to kill off Trafalgar's season.
Morwell East v Newborough

Morwell East were brought back to earth with a thud last week when they confronted one of the benchmark sides of the competition in Yallourn-Yallourn North.
The Hawks had been cruising through the 2019 season without a worry in the world until the Bombers put them to bed very quickly.
A few sleepless nights since then will have new Hawks coach Devon Soutar both planning to bounce back after two losses in a row, to claim a victory against Newborough and to also put together a game plan that has them better prepared for their next confrontation with those at the top.
Newborough would have planned to be starting this contest with two wins under their belt but their loss to Boolarra last week would have shaken the confidence of the Bulldogs and could make them more vulnerable than they already are.
Coach Dean Caldow has nurtured his young team through the rigours of senior football quite well but it is now as winter starts to settle in, when wins are few and far between, that a team can start to wonder if all the hard work is actually worthwhile.
You can't see the Bulldogs upsetting Morwell East but their success will be continuing to give 100 per cent when the option of taking short cuts loom large in their mind.
For the Hawks a win, isn't enough. They will want success in a fashion that indicates they were embarrassed by last week's loss and Newborough need to pay the price.
Boolarra v Yinnar

The target for Boolarra was pretty clear right from round one according to coach Tony Giardina who said "we need to win our first game as early as possible and then put a few more on the board during the season".
The Demons claimed a victory in the very first round with a gutsy win over Thorpdale and last week backed it up with their second win over Newborough.
They get their chance to take the scalp of a contender this week against Yinnar.
The Magpies have been somewhat unpredictable this season. Patches of play against the best have been very good but equally patches of play against those towards the bottom of the ladder have been disappointing. Much of the inconsistency has been courtesy of a changing first 21-player availability which has caused problems for new coach Kane Grinstead-Jones.
The Magpies coach was happy to have welcomed back some first choice players in last week's win over Thorpdale
Grinstead-Jones said he "thought we played some good footy, which helps when you get back a few experienced players [and] we finished off the game well when we could have just gone through the motions."
Building on that confidence is the key now for Yinnar.
With Hill End and Morwell East the big improvers this year, one side is destined to miss the five and a slip up in a game they were expected to win would be devastating for that club. This looms as that for Yinnar.
This will be a better game than some might expect and will have a huge impact on the rest of the season.
Thorpdale v Hill End

Thorpdale coach Ray Pickering has been drained before a ball is even bounced on a weekly basis, worried that he even has a side at his disposal.
The Blues gave up one game already this year when they couldn't find the numbers to field a reserves side to take on Trafalgar and last week there were similar concerns against Yinnar.
Thorpdale won't get any respite this week from Hill End who have been the stand-out improver of the competition.
Their three wins have them inside the top five and there would be no plans for them to leave the coveted position they hold.
Coach Mike Santo and his off-field team have put together a squad that has all the elements required to play a big part in finals football.
Narrow losses to Yallourn-Yallourn North, Mirboo North and Morwell East have been countered by wins over Trafalgar, Newborough and Yinnar.
At three and three Hill End can turn at the half way mark of the year at five and three with expected victories over Thorpdale and Boolarra in the coming weeks.
The Rovers good form to date can all amount to nothing if they were to give up one like this, a win not only crucial, but the manner in which they go about their business is also important.
Good sides don't just win these ones – they show no mercy even when the game is in their keeping.
Make no mistake Thorpdale will unsettle their visitors early in the piece with the fierce attack on body and ball, and the Rovers should be prepared for that, but after the game starts to unfold, what happens next will indicate whether Hill End really are what they promise to be, or whether they might be just making up the numbers.