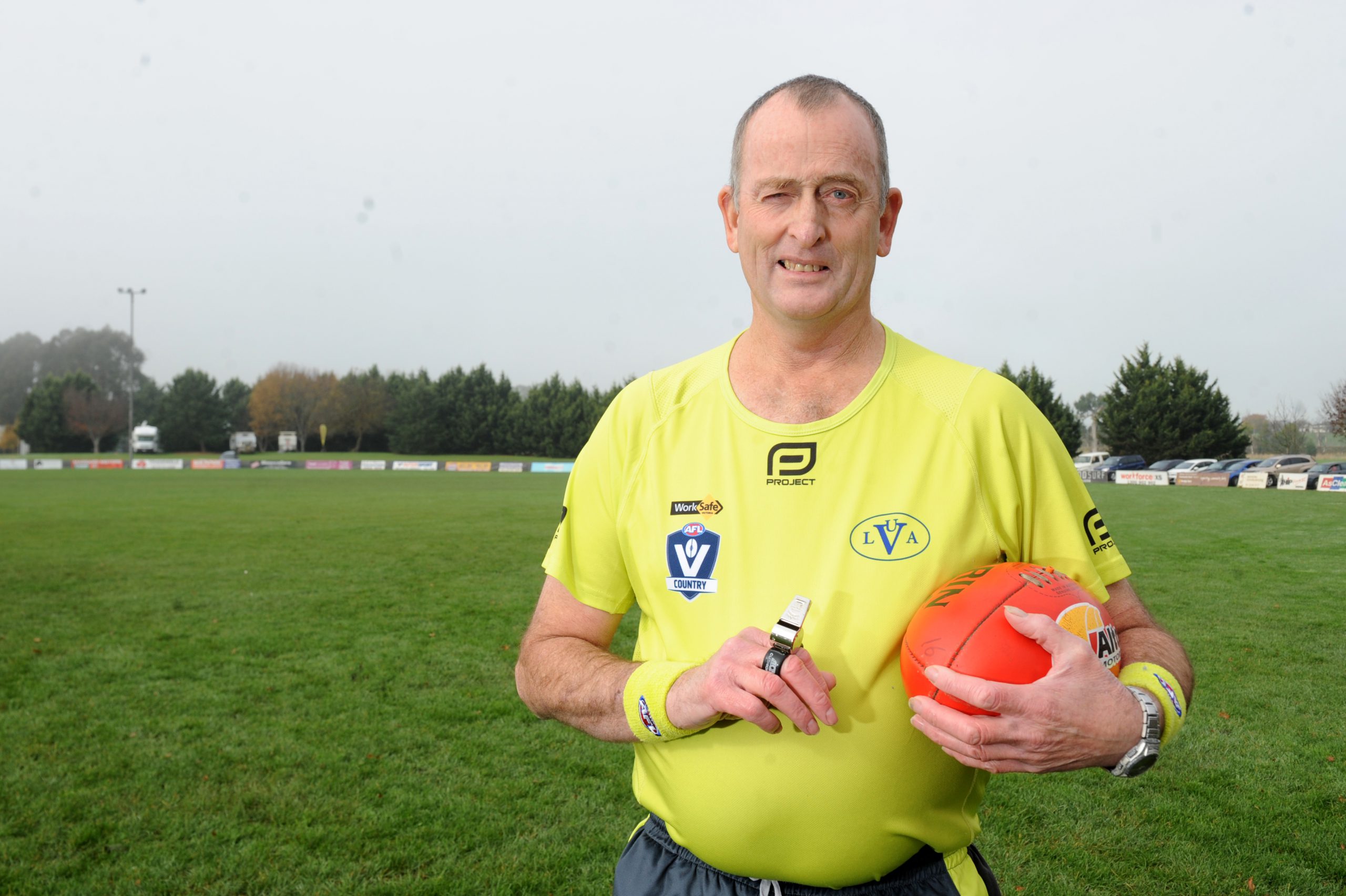 Kate Withers
FOOTBALL

After nearly 40 years as an umpire Gippsland football stalwart Robert Tatterson still works by the tenet "never be afraid to blow the whistle".

It's a mantra that has served him well in 899 games officiating in the Latrobe Valley Umpires Association, though he suggests "none of the games have been good ones yet".
In a phenomenal feat of longevity, the 57-year-old will run out in game 900 for the LVUA this weekend alongside a panel of umpires he has hand-picked for the special occasion.
With lifelong friends Steve Buhagiar, Don Wight, Barry Lawrence and Mark Smith by his side – as well as a number of up-and-coming young umpires he has mentored – Tatterson will join prestigious company in the 900-game club in the Yinnar v Trafalgar seniors clash on Saturday.
The actual number of games he has run as a field and goal umpire is "around 1100".

"I started in the Sale Umpires Association in 1981 and I was there until the end of 1989," Tatterson said.
"I was dressed in street clothes when I went down out of interest one day and the next minute I was umpiring.
"My first game I was sent out to my hometown of Boisdale where my cousin was playing. He kicked 18 goals that day so I thought I'd better give him the three votes."
In a much-maligned profession, Tatterson credits his upbringing working in the family abattoir as preparation for life as an umpire.
"Work toughened me up. You will never run the perfect game as an umpire," he said.
"You know when you've had a bad one, and the players will let you know, but no matter what you always go in the social rooms after the game and mingle.
"Things don't bother me on the field. I just get out there and do the job. It's about the camaraderie and I've met a lot of good people along the way."
Tatterson has been mentored by Ian Couchman, Peter Box, Bob Thomas and Steve Buhagiar along the way.
"I have never veered off what they taught me at the start," he said.
"It's about consistency. If you're going to blow the whistle for anything it should be for a high tackle.
"But Steve Buhagiar had faith in me and it took me 15 years to actually get a senior grand final. Bob Thomas encouraged me to go down to the Valley and helped me a hell of a lot too."
Nine senior grand finals later and "probably half a dozen" in the reserves, Tatterson still draws on the lessons he learnt in his early days nearly four decades on.
"A lot of the people I want to thank and the people I owe … have all passed on, so I've done a bit of reflecting," he said ahead of game 900 with the LVUA.
"The young umpires coming through are fantastic, and it's about giving back to them as well."
Tatterson will need a knee replacement "at some stage", but doesn't plan on hanging up his whistle any time soon.