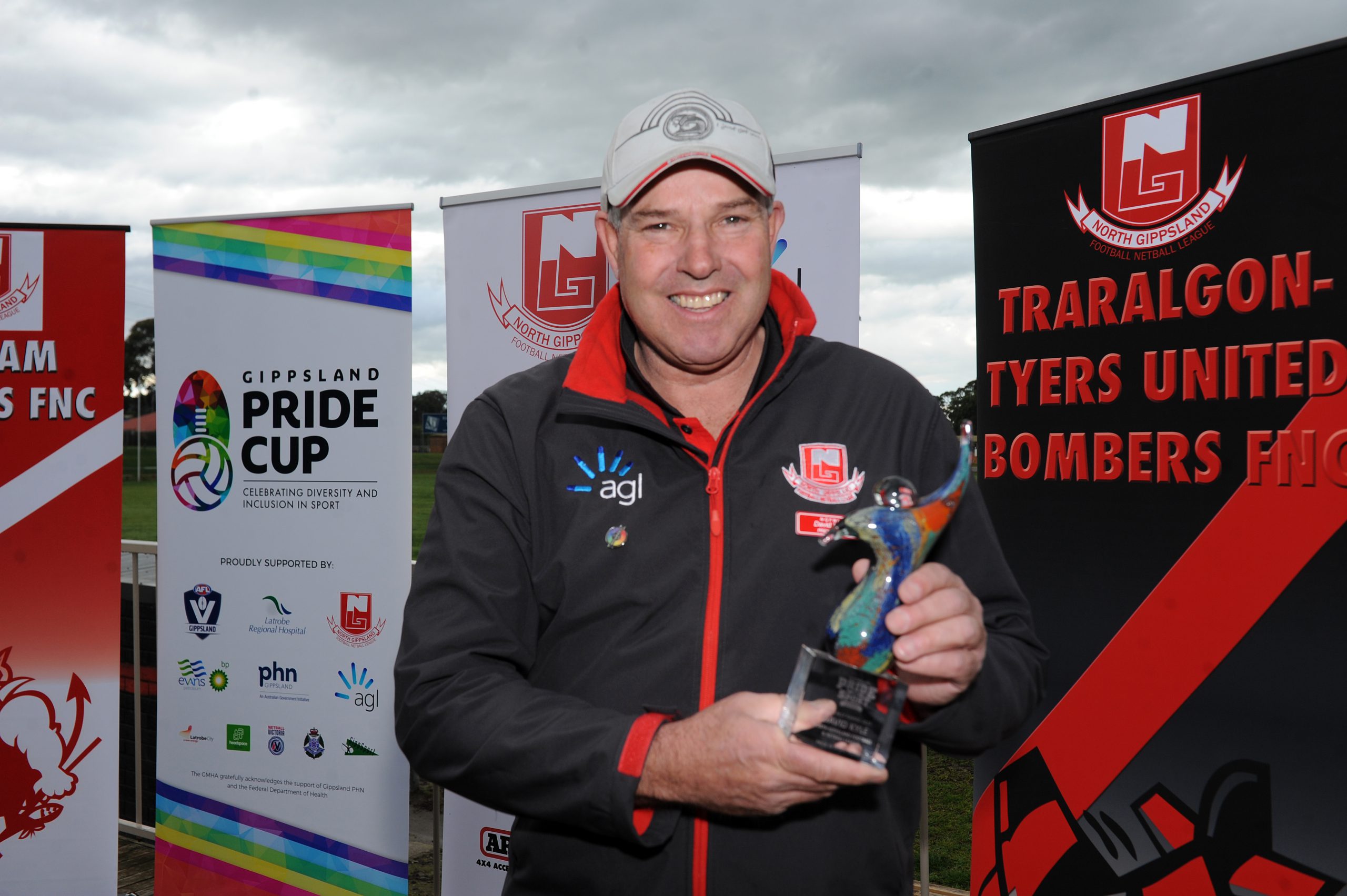 Kate Withers
There is an extra sheen about the Gippsland Pride Cup this year.

Last week event trailblazer North Gippsland Football Netball League president David Kyle was nationally recognised with the LGBTI Ally Award at the 2019 Pride in Sport Awards.
In a prestigious field of nominees that included Tennis Australia, fellow Gippsland Susie Grumley and the St Kilda Football Club, Kyle was "surprised and humbled" to receive the gong.
"We were in a room with people from all around Australia so it was nice to fly the flag for this part of the world," Kyle said.
Launched in 2017, the Gippsland Pride Cup was designed to break down barriers between members of the LGBTI community and sport and encourage inclusion, acceptance and diversity at a local level.
Kyle admitted the event had attracted its fair share of critics and, while "there's still a long way to go", maintained the message was gaining traction every year.
"The more people you talk to the more stories you share, but people will come on this journey at their own pace," he said.
"Some people are very resistant, some are hesitant, but I often refer to a [fictional] farmer … I know he's got a Pride Cup beanie in his tractor.
"He would never have put that on his head three years ago. Now, maybe he won't wear it in public but he'll wear it on the farm and maybe this year he'll wear it to the game and maybe the year after that he'll wear it down the street."
Additional initiatives such as the educational pride forum which was launched last year also go a long way towards driving home the importance of acceptance, according to Kyle.
"It's not an easy space sometimes. You get a bit of resistance from here to there, but that sort of resistance is really just a cry for more information," he said.
"What we do know is, the continual education of people and the continuation of clubs wanting to get involved and support this message is really, really important to the LGBTIQ community.
"There's always going to be a piece of work to do in this space and when I speak publicly I often speak about exclusion and what it's like to be excluded. I've never had to confront that in my life and I just think, 'what would it be like if I didn't fit in'?"
Keen to spread the love, Kyle announced the Gippsland Pride Cup would be held on a rotating roster from next year in a bid to distribute the message of inclusion and acceptance across the region.
"It doesn't matter about the length of the hair, the colour of your skin, your religious beliefs or your sexuality – not one thing will define any of us here," he said.
"Nobody has an exclusive license to play footy or cricket or netball or any sport. Collectively we're all unique and can all add value.
"There's no doubt we're seeing a major change."