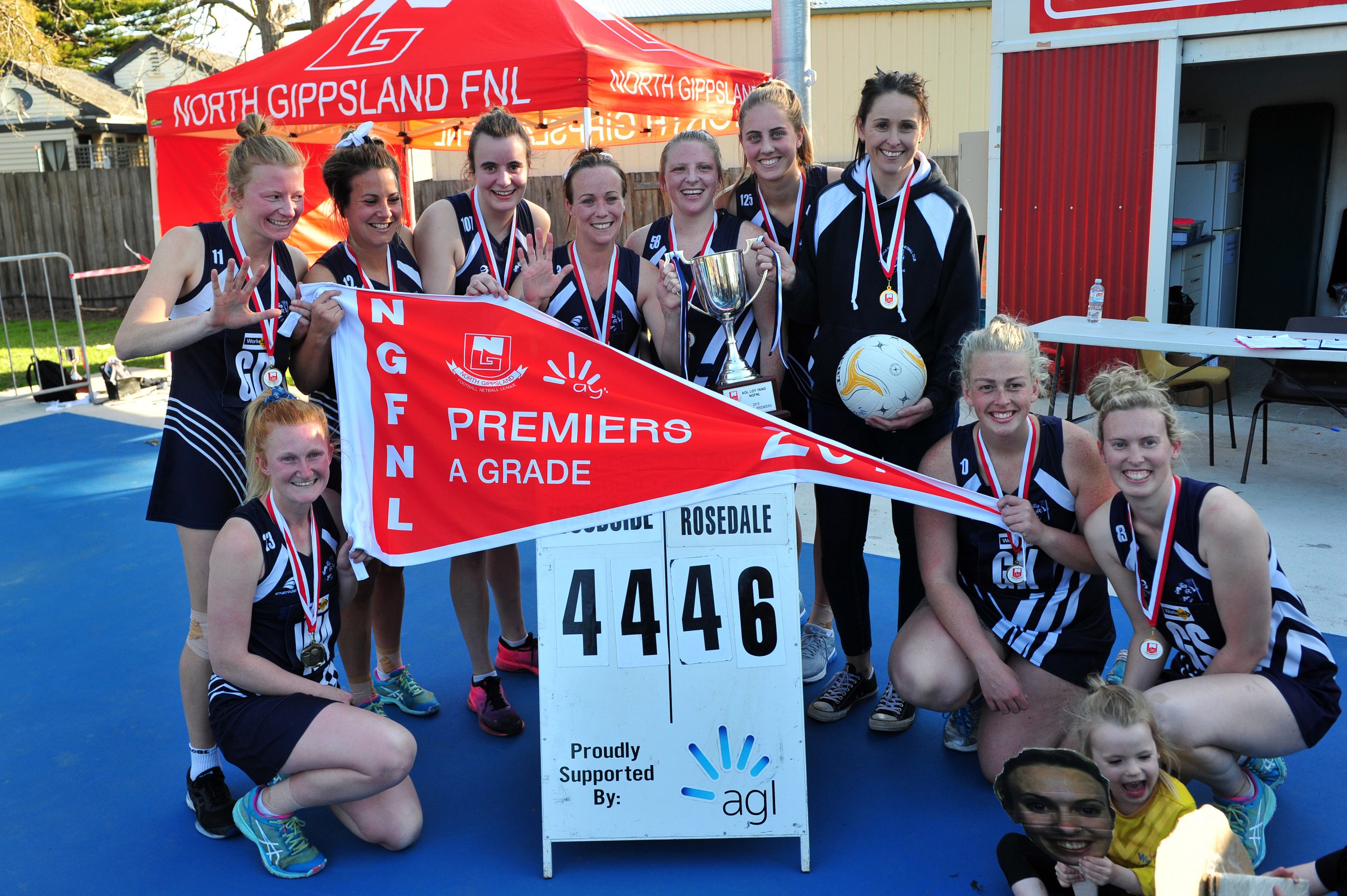 NETBALL

NORTH GIPPSLAND

Rosedale made it back-to-back A grade flags in the North Gippsland league at the weekend, prevailing over Woodside in a seesawing grand final, 46-44.

In a game with countless momentum swings and lead changes, there was little separating the league's two top sides at quarter time with the Blues edging a single goal ahead, 14-13.
Megan Harrison was proving pivotal through the mid court for Rosedale while the duel between Blue Carly Johnstone and Laura Foat was already living up to pre-game hype.
The Wildcats scored the first three goals of the second term to pull ahead and run out to a game-high six-goal lead mid-way through the quarter.
Spurred on by dead-eye shooting from Lorelle Lowe, the Blues mounted a comeback and scored five goals in succession including one on the half-time whistle to level at 24 goals apiece at half-time.
Some wayward passing from the defending premiers let the Wildcats back in the game in the third term and handed them a vital two-goal lead at the last break.
There were no less than four lead changes in the last term and scores were level on three occasions, however, it was the Blues who pulled through with consecutive long-range goals to Lowe to seal the deal.
Coach Staci Scott said this year's flag was "even sweeter" than last year's, despite the fact she watched from the sidelines this time around.
"Whenever you win it's super sweet and against quality opposition, that's the ultimate," Scott said.
"Woodside has been the team to beat with us this year so we're happy to have the competition, but even happier to have the win."
In the lead-up to Saturday's decider Scott said she would likely toy with several positional changes throughout the game to keep the Wildcats on their toes and did just that on the day.
"We knew that we had quite a fast mid court but we have a very comfortable mid court and for [the grand final] we had a plan to make sure that even if a combination we tried was a little bit weaker than another, we were going to run those combinations," she said.
"I just hoped that come the last quarter we'd have the legs to run out the game, which was what we did."
Ahead of season 2020 the prospect of three flags in-a-row wasn't completely out of the realm of the possibility for the Blues.
"You can always think of it, but it's always a long road to a grand final and I guess that's where the sweetness lies because you know it's such a long road," Scott said.
Best on court for the A grade grand final went to Megan Harrison for her work through the mid court.