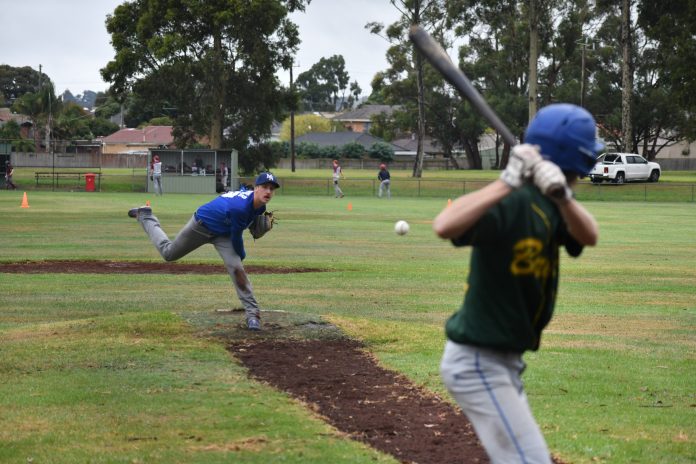 AMY FORRESTER
BASEBALL
GIPPSLAND CHAMPIONSHIPS
By AMY FORRESTER
LOCAL baseball returned at the weekend, with the Gippsland Championships held in the Latrobe Valley.
Morwell and Moe/Newborough Baseball clubs hosted the championships with eight teams participating across the two days.
Moe/Newborough Dodgers started out strong with wins against Churchill and Westgarth, but struggled for the rest of the weekend suffering four losses.
Sale had a strong showing both days with their only loss during the round-robin to Dingley.
Traralgon Redsox started with a draw against Westgarth and then took a win against Churchill, before going loss, win, loss, loss.
Churchill Braves had a slower start to the weekend with losses against Moe/Newborough, Traralgon and Pakenham, but recovered to have a strong win against Westgarth and Morwell but just couldn't match Dingley with another loss.
Morwell Cougars had a competitive side but just couldn't find a winning formula until the last game when it defeated Traralgon.
Westgarth started the weekend strongly with a draw to Traralgon but then lost three of its remaining four games.
Pakenham Pumas started with a loss against Dingley and Sale, but finished off on a positive note winning against Westgarth, Moe/Newborough, Morwell and Churchill.
Dingley just couldn't be beaten, winning every game in the round-robin and staying at the top of the ladder all weekend.
After the first day of competition, the ladder read: Dingley first on eight points, followed closely by Sale (six), Traralgon (five) and Moe/Newborough (four).
The final ladder saw Dingley and Sale first and second, meaning the two would go head-to-head in the grand final.
Unfortunately the grand final was abandoned after 40 minutes due to rain at Morwell.
As Dingley had finished on top of the ladder they took home the shield and were crowned as the Gippsland Champions for 2022.