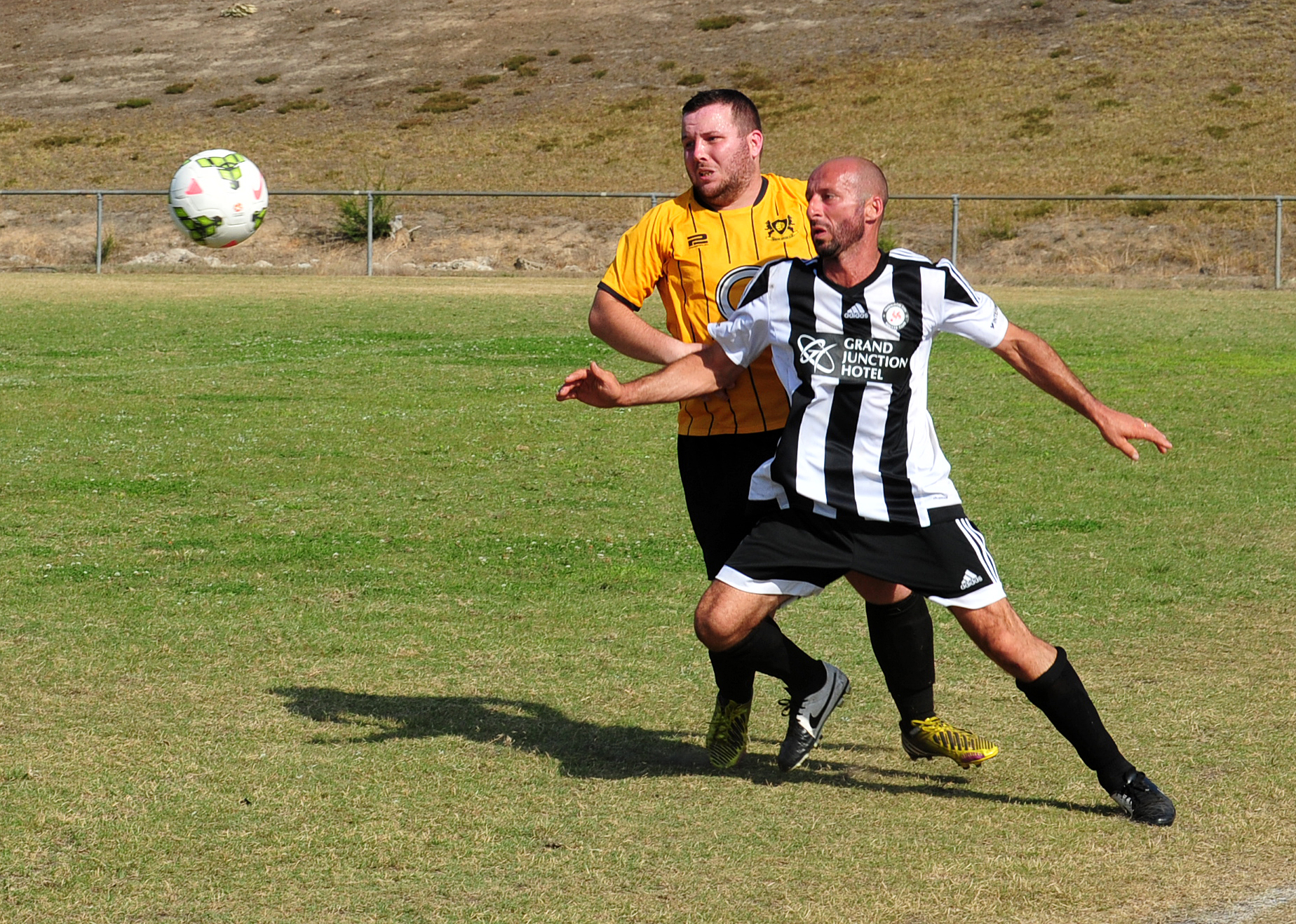 SOCCER
LVSL
Trafalgar didn't do its finals aspirations any harm with a 3-2 win over Moe with the Victory jumping into sixth place at the expense of Sale who dropped back a place.
It was the second time this season that Victory has downed Moe, proving their first victory was no fluke.
Trafalgar opened up at 12 minutes with a snappy goal, scoring again at the 24 and 34 minute marks to take a 3-0 lead.
Moe fought back hard and was rewarded with a goal at 40 minutes which left the half-time score 3-1 Trafalgar's way.
Moe changed things around in the second half and were unlucky in the 53rd minute, after finding the back of the net only for the shot to be ruled offside.
But the Red Devils kept persisting and at 56 minutes were rewarded with their second goal.
Trafalgar was forced into defence but stood strong to Moe's forward moves.
Time was on the Victory's side and they ran out winners 3-2.
Olympians v Tyers
On Saturday night Olympians played Tyers for the 50th time, with Olympians winning for the 29th time over the Lightning.
In a slowish first half, Olympians led 2-1 before posting another to take a 3-1 half-time lead.
There was little between the two teams, but it became a different matter after half-time when the Olympians completely outplayed Tyers, belting six goals to nil in their 15th consecutive win over Tyers to finish 9-1 victors.
It was Olympians second-highest score against Tyers.
Monash v Traralgon City
Monash and Traralgon City played their 99th match, with Traralgon City taking out the match 2-0 over third placed Monash.
Ladder positions didn't matter as Traralgon proved to be the top gun, but it was still a struggle before the Roosters let loose at 22 minutes for the opening score.
Monash failed to make the most of its chances, which went wide of the mark.
City came good again on the half-time whistle when a cheeky goal caught Monash off guard and the Roosters were happy to go to 2-0 at the break.
After half-time it became an arm wrestle as neither team could break the deadlock.
Traralgon's keeper got his fourth clean sheet of the season as the Roosters celebrated a revenge victory.
Churchill v Fortuna
Churchill and Fortuna celebrated their 100th clash against each other in another match that could have gone either way.
The Rams won the first encounter on Anzac Day but this time round it was Fortuna who spoilt the party with a 2-0 win.
The Lions opened up at seven minutes and followed up with another 10 minutes later to hold down a 2-0 lead at half-time.
Fortuna coach Luke Cheney had the last laugh against his former side, downing Rams 2-0 as neither teams could add to the score sheet.
Falcons 2000 v Sale
Falcons 2000 secured their status as top side with a clinical 4-0 win over Sale.
The Birds scored twice in each half to record a solid win.
The Falcons have set the trend this season and with a lead of seven points over second-placed Olympians they need only to maintain that lead to claim the championship.
It took Fortuna 16 minutes to gain the first goal then another at 38 minutes almost sealed the Swan's fate.
Sale applied the pressure in the second half but were denied by some excellent keeping by the Falcons guardian.
The Falcons put the match beyond Sale's reach with goals in the 58th and 75th minutes.
Newborough/Yallourn v East Gippsland
Newborough/Yallourn kept its hopes alive with a hard-fought 3-0 win over East Gippsland Eagles.
The Combine were a couple of players down after the previous week's game against Monash but the players stood up to the pressure.
It took nine minutes before the first score as Newborough/Yallourn took the match away from the Eagles.
Another goal close to half-time meant the Combine went in 2-0.
But it was a hard match, with East Gippsland showing plenty of promise.
Newborough/Yallourn went up 3-0 early in the second half and the score stayed that way till the finish with neither team adding to the score line.
Next round Falcons and Olympians will battle it out in their 35th match in a first versus second clash.
Bragging rights will be up for grabs as both teams have won 15 each (including four draws).
Olympians haven't beaten Falcons since 2013, so the pressure is on them to break the four season drought.
Falcons won the previous match 3-2 but will be expecting a tough match.
Fifth-placed Newborough/Yallourn will be wary of Trafalgar who are showing positive signs and sit in sixth place on the ladder.
The Victory have had a tremendous season and will be a formidable challenger to the Combine.
They have played only five matches against each other with Newborough/Yallourn holding a 4-0 lead with one draw.
Trafalgar would like to break the drought against the Combine but will face a tough match which could go either way.
Their last clash was a goal-fest ending in a 4-4 draw.
Fortuna (eighth) and Monash (third) have been rivals for many years with over 130 matches being played between them.
Fortuna has had the better of the rivalry posting 59 wins to 36 but this time round the fingers are pointing to a Monash win.
Ladder placings suggest the Wolves will be too strong for the Lions, but as Fortuna had a good win last week they may be able to produce a match winner for the second week in a row.
Fortuna has lost the last five to Monash, which should continue its good form over Fortuna.
Fourth-placed Traralgon City is home to Sale (seventh) in what will be an important match for the Roosters who could sneak into third if Fortuna beat Monash.
City has the more impressive head-to-head record between the two teams claiming 45 wins to Sale's 24.
Traralgon City have won their last two over Sale 3-0 and 4-0 and can expect a much closer score line.
Although sitting in ninth position, Moe should be too strong for Tyers who are sitting in 12th.
The Red Devils rarely lose against Tyers having won 29-3 over the years.
A win over Tyers will restore some confidence but Tyers will be prepared to go for their second win for the season.
Tenth-placed Churchill has a 5-0 record over East Gippsland, which sits in 11th, and will be keen to keep the record intact.
They will have too many guns for the East and should take out their sixth match over the Eagles.