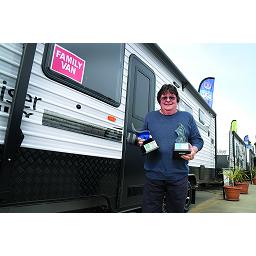 By Heidi Kraak
While receiving back-to-back awards at the Caravan Trade and Industries Association of Victoria may seem like a personal victory, Traralgon business Ian Grant's Caravans owner Ian Grant is convinced it is a win for the Latrobe Valley.

"It's not just about what we did, but what can be done here," he said.
"There are businesses that think 'we're in the Valley, we can't compete'. But you can compete. You can compete with anything, you just have to plan it right and stick to it."
Mr Grant purchased the businesses, formerly based in Moe, almost 30 years ago.
"The business we brought in Moe sold about 50 to 60 caravans a year, we had to sell about 80 to have a half-decent wage," he said.
"Our first year we sold 156. Every other year it kept on climbing, now we are one of the biggest in Australia."
Mr Grant said a key part of the success of the business was its' capacity to attract customers from across the country.
"We were selling caravans when the SEC got sold and we came through that and we're still increasing our sales. We just got them from outside," he said.
"When people weren't buying much we started looking further afield and they came to us.
"I've had people from Darwin, from Perth; we pick them up from the airport. We had a couple come over from Perth for a sale we were having and they brought a caravan."
The business picked up the Business Award for Excellence in The Dealer/Retailer category at the Caravan Trade and Industries Association of Victoria this year, held at Crown Casino, and won a Service to the Industry Award at the same awards night last year.
Mr Grant said he was glad to based in the Latrobe Valley.
"We could go down near Pakenham, just on the highway there. We would get more people, probably," he said.
"But we are good with where we are. We want to have our business here in the Latrobe Valley so we can employ Latrobe Valley people.
"And look, this is a great place – anything that can be done in Melbourne can be done here and better. [These awards] are showing the Valley what can be done in the Valley".